oTENTik
Kluane National Park and Reserve
Welcome to a whole new way of camping! A cross between a tent and a rustic cabin, the Parks Canada oTENTik is a relaxing, easier way to experience camping. The oTENTik is a unique concept for visitors to enjoy camping with the homey comfort of a bed and the ease of a campsite already set up and ready to go. Each unit includes three beds and can accommodate up to six people.
Kluane has five oTENTik tents located in Kathleen Lake campground.
Closed for the season. We look forward to seeing you in May 2024!
Features
Inside each oTENTik: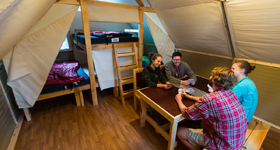 Sleeping area for up to 6 people - three sleeping platforms with 2 queen sized mattresses and 1 double mattress
A table and seating for 4 people
Wood-burning stove and wood
Solar-powered lighting, USB cell phone charging station and a battery-powered lantern
Fire extinguisher, smoke and carbon monoxide detectors
Broom and dustpan
Please note: there is no plumbing or running water in the tents
At each oTENTik site: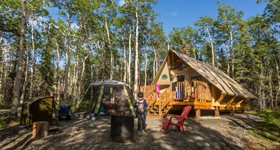 Picnic table
Two outdoor chairs
Fire pit and firewood
Outdoor 2-burner propane cook stove (propane not included)
Mosquito/rain shelter for the picnic table
Bear-resistant food storage locker
(85.5 cm/33.75" H x 63 cm/25" W x 111.75 cm/44" L, pack appropriately)
Wagon for moving your supplies
oTENTik #1 has a ramp instead of stairs for easier access.
Nearby:
Outhouses
Potable water taps
Grey water disposal
Garbage and recycling disposal
Parking for a maximum of 2 vehicles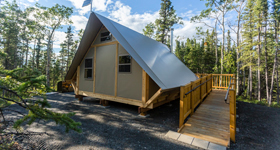 oTENTik #1 - Wheelchair Accessible (welcomes individuals with and without mobility restrictions)
The mattresses are firm; the lower bunk sits at a height of 71 cm.
The door is 84 cm wide and has a lip of under 2 cm at the entry point.
The front deck is 1.8 m by 6.7 m.
The ramp has an 8% slope over 6 m with two handrails and is 99 cm wide.
The picnic table is wheelchair accessible.
The outhouse is within 100 m down gently sloped wooded trail with a few roots, and the toilet seat is 51 cm high.
What to bring
There is a very short walk from the parking area to the oTENTik sites. Pack appropriately.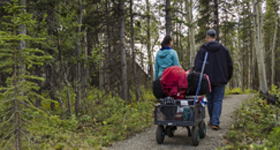 Sleeping bags, blankets and pillows (extra blankets and sleeping bags with a temperature rating of -10° C are recommended in September)
Food, drinks, and a water container
Cooking equipment, dishes, eating utensils and a wash pan for dishes
Propane
Inside slippers or shoes for comfort and keeping the oTENTik clean
Flashlight (August and September)
Matches or a lighter
Axe
A few rules
In addition to the national park's camping regulations, Parks Canada oTENTik users must follow a few additional rules:
For your safety, no food preparation, food or drink storage, eating, drinking, or cooking is allowed inside the oTENTik
When not in use, all food, garbage, dishes and recyclables MUST be stored in the bear resistant storage lockers or your vehicle
Bunk beds: Children must be at least 6 years old before they can use the top bunk
Smoking is not permitted in the oTENTik
Pets are only permitted in oTENTik #1 and oTENTik #5. All other oTENTiks are pet free
Reservable accommodation information
General accommodation information

Check-In:

After Hours Registration:

If you will be arriving after operating hours you must call the Visitor Centre at 1-867-634-7207 to to check-in and receive an access code to your oTENTik.
If you will not be passing through Haines Junction you must call the Visitor Centre at 1-867-634-7207 to check-in and receive an access code to your oTENTik.

Check In Time:

Any time after 3 pm
Visitors who would like to arrive earlier may enjoy the rest of the park while waiting for their accommodation to become vacant and cleaned.

Check Out Time:

Quiet Hours:

Minimum Length of Stay:

Maximum Length of Stay:

Maximum Persons per Accommodation:

Maximum Vehicles per Accommodation:

2 vehicles
Please note that the oTENTik are walk-in only. There is a short walk from the parking area to the oTENTik sites.

Extra Camping Units Allowed beside the Accommodation:

No additional camping units are allowed.

Cooking / Food Preparation:

For your safety, no food preparation, food or drink storage, eating, drinking, or cooking is allowed inside the oTENTik. When not in use, all food, garbage, dishes and recyclables MUST be stored in the bear resistant storage lockers or your vehicle.
A picnic table and fire pit are provided at each site.
Propane camp stoves are located at each unit. Propane is not provided.

Electricity Available:

There is a solar-powered charging station for cell phones (USB) in each oTENTik (usb).

Fire Policy:

Campfires are permitted in the fire pits provided for this use. Each of the oTENTiks has its own fire pit.
Firewood and a fire permit are included with your rental.
Each oTENTik contains a wood stove.

Alcohol Policy:

Alcohol consumption is permitted at Kathleen Lake campground.

Pet Policy:

Pets are permitted in oTENTik #1 and #5 only.
oTENTik #2,#3,#4 are pet free.
Pets must be leashed at all times and must not be left unattended.

Internet/Wi-Fi Access:

Cell coverage at Kathleen Lake campground is limited and unreliable. If you are unable to get service it is necessary to drive north towards Haines Junction until reception improves.

Important Notices:

For your safety, food preparation, food or drink storage, eating, drinking, or cooking is not permitted in the oTENTik.
When not in use, all food, garbage, dishes and recyclables MUST be stored in the bear resistant storage lockers or your vehicle.
Pets are permitted in oTENTik #1 and oTENTik #5 only. All other oTENTik are pet free.

---

Campground Location:

Kathleen Lake Campground: This small self-registration campground is located 26 km south of Haines Junction on the Haines Highway.

Roofed Accommodation Descriptions:

Kathleen Lake Campground oTENTik:

These oTENTik resemble a traditional prospector tent, but offer a more spacious and comfortable experience. The tents have a wooden frame with canvas covering and a wood laminate floor.
Parking for up to two vehicles is a short walk from the oTENTik site. A wagon is provided at each oTENTik for moving your supplies.
An outhouse and water tap are located nearby.
Food preparation and storage, eating and smoking are not permitted in our oTENTik.
oTENTik #1 and #5 permit pets. #2, #3, #4 do not permit pets.

What is included at the Kathleen Lake oTENTik:

table and chairs
two queen sized bunk beds and one double bed
wood stove
solar powered light
cell phone charging station
battery powered lantern
fire extinguisher
carbon monoxide/smoke detector
mosquito screened windows that unzip.
locking door
a deck and two deck chairs
picnic table
mosquito/rain shelter for the picnic table
fire pit
outdoor 2-burner propane cook stove (propane not provided)
bear resistant storage locker
a wagon

If there is no vacancy

Guests may want to consider staying at a campsite at Kathleen Lake campground.

Require additional information?

General park information:

Telephone: 1-888-773-8888
8:00 a.m. to 8:00 p.m. Eastern Time, April to September
10:00 a.m. to 6:00 p.m. Eastern Time, October to March

Kluane National Park & Reserve : 1-867-634-7250

Terms and definitions

Site-specific

Guests select the specific campsite or accommodation when they make their reservation. All front-country camping reservations made through the Parks Canada Reservation Service (PCRS) are site-specific reservations.

Operating Season (Nights)

The "Operating Season" is the nights that the campground is open. Sometimes the campgrounds are open for longer than the period for which they accept reservations. Any dates of the "Operating Season" outside of the "Reservable Period" are dates that the campground operates on a first come, first served basis only.

Reservable Period (Nights)

The "Reservable Period" is the nights for which you can make a camping or accommodation reservation. Note that many campgrounds may be open longer than this period, and operate outside of these dates on a first-come, first-served basis.

Kiosk

The administration/entrance booth of a particular campground, this is where you "check-in" and register your arrival.

Vehicle

Car, truck, motorcycle, truck-camper, motorhome, or recreational vehicle. A motor home pulling another vehicle may count as two vehicles.

Camping Unit

Tent, tent-trailer, truck-camper, trailer, 5th wheel, motorhome or recreational vehicle.

Serviced Site

Refers to a campsite offering either electrical, water, and/or sewer hook-ups or any combination of these services directly on the campsite. Fully-serviced sites offer electrical, potable water, and sewer hook-ups. "Unserviced" sites do not offer any of these hook-ups.

The terms "serviced" and "unserviced" refer to the individual campsites; they do not refer to the washroom facilities or other amenities available at the campground.

Drive-through Site

Campsite where the driver does not have to reverse their vehicle to exit (there is a separate entrance and exit to the individual campsite). Ideal for larger vehicles and trailers.

Walk-in Site

Campsite which requires some degree of walking to access the site, and therefore requires a tent. Vehicle will be parked a short distance away.

Overflow Site

Overflow campsites vary from park to park, and may range from a paved area to park a camping unit (not generally suitable for tents) to a more traditional, grassy site. They are unserviced and are not reservable.

Accessible Site

A campsite which is accessible to guests with limited mobility.

Firepit

A designated structure for campfires located on a campsite. Check availability, as not all campsites offer a fire pit. In some parks, a fire permit is required to have a fire.

In some parks, only communal firepits are available, and access is shared with other guests.

Fire permit

In some campgrounds, guests will require a valid fire permit to have a campfire. A fire permit may include firewood. Please refer to the 'Fire policy' section of the QRT for individual campground policies.

Firewood

In some campgrounds firewood is sold by the bundle, whereas in others a fire permit may give the holder access to the campground wood pile. Please refer to the 'Fire policy' section of the QRT for individual campground policies.

First-come, First-served Site

Campsites that are available on a first come, first served basis only. These sites are only available to guests who are physically located at the campground. These sites cannot be registered over the telephone or on-line. These campsites may be available for only 1 night or for multiple nights depending on availability.

Shoulder Season

Shoulder season refers to the season before and after the peak season. While many campgrounds remain open outside of their peak season, the services offered during this period may be limited (please check with the park for more details).

Entrance Pass

A valid National Park Entrance Pass is required for all visitors to National Parks that have entry fees.

Daily Entrance Pass

A daily entrance pass permits visitor's unlimited entry to the specified park on a per day basis for the period of time indicated.

Annual/Seasonal Entrance Pass

An annual or seasonal entrance pass permits visitor's unlimited entry to the specified park for the period of time indicated.

Parks Canada Discovery Pass

The Parks Canada Discovery Pass permits visitors unlimited entry to the participating Parks Canada national parks and national historic sites across Canada, for a period of 12 months.

Kathleen Lake facilities map

Kathleen Lake facilities map (PDF - 1 MB)