oTENTik
Grasslands National Park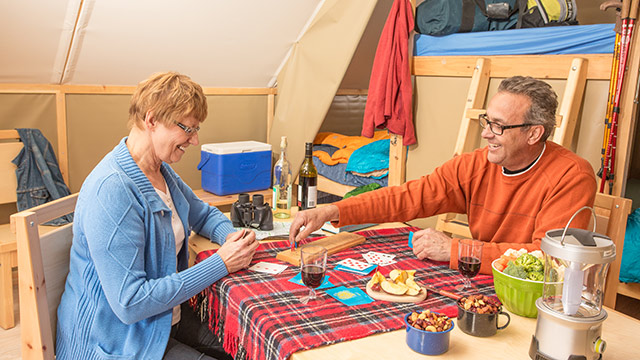 Are you interested in camping but prefer the comfort of a bed and arriving to find camp already set-up? Parks Canada oTENTik tents in the Frenchman Valley (West Block) and Rock Creek (East Block) Campgrounds offer an easy and relaxing way to experience camping. The oTENTik, exclusive to Parks Canada, is a spacious blend of a tent and an A-frame cabin equipped with beds and furniture on a raised floor.
West Block (Frenchman Valley Campground)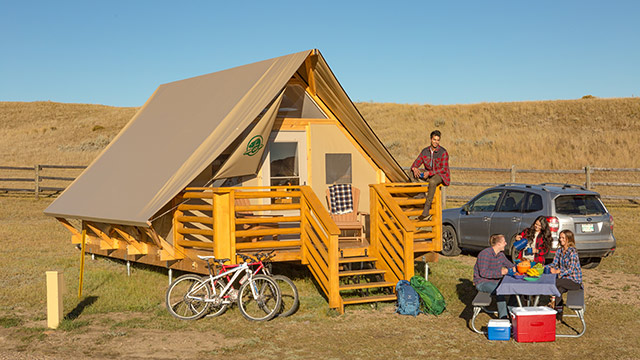 4 oTENTik units available (#21 accessible, #24 pet-friendly)
Close proximity to Coulee Centre - respite from the heat, a location for cooking and eating, and a hub for park programs
Reservations required
Check-in time: 3:00 pm and check-out time: 11:00 am
East Block (Rock Creek Campground)
8 oTENTik units available (#31 accessible, #28 pet-friendly and accessible)
Reservations required
Check-in time: 3:00 pm and check-out time: 11:00 am
General oTENTik Information
Inside each tent:

Sleeping area for up to 6 people - three sleeping platforms with approximately 2 queen sized mattresses and 1 double mattress
A table and seating for 6 people
Electricity and a small heater
Smoke and carbon monoxide detectors
Broom and dustpan
Please note: there is no plumbing inside the tents
On each campsite:

Front deck
Fire pit
Picnic table
Barbeque
Adirondack chairs
Nearby:

Easy access to drinking water and vault toilets
Vehicle parking
What to bring (This list is not exhaustive)

Sleeping bags, blankets and pillows (Extra blankets and sleeping bags with a temperature rating of -10° C are recommended in May and September)
Food, drinks, and a water container
Cooking equipment, dishes, eating utensils and a cooler with ice
Slippers or indoor shoes
Flashlights
Matches or a lighter for lighting the outdoor fire pit
Rules

In addition to the national park's camping regulations, Parks Canada oTENTik users must follow a few additional rules:

Cooking is not permitted in the oTENTik unit.
Smoking is not permitted within the oTENTik unit.
Pets are not permitted in the oTENTiks. (Pet-friendly unit available)
Damage deposit will be charged if oTENTik is damaged. Cost will be dependent on state of oTENTik.
Booking Information

The Visitor Centre in Val Marie and the East Block Rock Creek Campground are 166 km apart, approximately a 2-hour drive. When making reservations, please pay close attention to which block and campground you are choosing.
If your reservation is for the Frenchman Valley Campground, please check-in at the Visitor Centre in Val Marie (open May 1 to October 9) or the Frenchman Valley Campground Reception (open May 19 to September 4, 2023).
If your reservation is for the Rock Creek Campground, please check-in at the Rock Creek Campground Reception in the East Block.
Water is available May 19 to September 4, 2023. After September 4, no water will be available at the Frenchman Valley or Rock Creek Campgrounds. Please bring all the water you will need.