Red chairs
La Mauricie National Park
Take a seat!
Have a seat in the red chairs and enjoy a front row seat for some spectacular views. Once you have found them and made yourself comfortable, take a deep breath and contemplate on the different elements that compose the landscape in front of you.
We saved you a seat!
Parks Canada has placed over 200 red Adirondack chairs in peaceful and scenic locations throughout many of the country's most unique and treasured places, including the seven chairs found here at La Mauricie National Park.
Grab a friend, go for a walk then relax and snap a selfie on one of our red chairs. Each location immerses you in the landscape or allows you to discover its history.
How to find the red chairs
The red chairs are for you to discover. While some chairs are easy to find, others require more of an adventure.
Find them in La Mauricie National Park at:
Lac aux Chevaux

Treat yourself to a breathtaking view of Lac aux Chevaux in accessible both in summer and winter.

GPS coordinates: 46°45'12.9" N 72°49'53.9" W or 46.753572, -72.831653

How to get there:
Take the Lac-Solitaire Trail no. 13, located behind the Rivière-à-la-Pêche service pavilion. Note that this is a difficult trail. Depending on which direction you are taking, you will have to walk 3.3 km (clockwise) or 2.2 km (counterclockwise).
Rosoy

The climb to the Lac Rosoy lookout point is a challenging one, but the magnificent view of the Saint-Maurice River is worth all the effort. They are accessible throughout the year.

GPS coordinates: 46°46'29.2" N 72°48'47.5" W or 46.774781, -72.813196

How to get there:

You will need to go to the Mekinac parking lot, located 4 km from the Saint-Jean-des-Piles entrance. The Mekinac Trail is an intermediate level trail that takes about 4 hours to complete. You will pass several lookout points on your way before reaching the red chairs.
Vide-Bouteille

Wapizagonke Lake needs no introduction. Despite that fact, we still never get tired of reflecting on its beauty!

GPS coordinates: 46°42'53.0" N 73°01'35.8" W or 46.714708, -73.026111

How to get there:

There is only one way to reach the red chairs located on the edge of Vide-Bouteille beach: you have to row! Located almost halfway between the Shewenegan and Wapizagonke picnic areas, you will need about 1 hour to get there.
Mystery!

There is a giant red chair in the park.

Each year, it is moved to a new location.

Can you find it?
Elsewhere in Parks Canada

The adventure doesn't end at La Mauricie National Park! Parks Canada has installed red chairs in the most beautiful landscapes in the country. What are you waiting for to discover them?

Here are some destinations where you can take a red chair break:

Forges du Saint-Maurice National Historic Site
Fort Chambly National Historic Site
Fort Lennox National Historic Site
Coteau-du-Lac National Historic Site
Fort Obadjiwan-Témiscamingue National Historic Site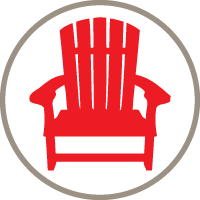 Tag us in your red chair photos
Take a photo and share it with #ShareTheChair #pnMauricie #lamauricienationalpark #sharethechair

Parks Canada's red chairs: where it all started
In 2011, our friends at Gros Morne National Park came up with the idea to place sets of Adirondack chairs in lesser-known, stunning locations around the park, inviting visitors to enjoy and share on social media. Today, the iconic red chairs can be found in over 100 locations administered by Parks Canada.
Lightbulb Did you know?
The Parks Canada red chairs are made from 100% recycled plastic saved from Canadian landfills.