Winter Activity Hub
Prince Edward Island National Park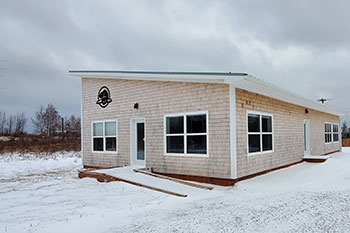 Located in Cavendish Campground at 355 Grahams Lane, the Winter Activity Hub is your weekend destination for equipment rentals and visitor facilities while exploring PEI National Park trails in Cavendish.
Hours of operation
The Winter Activity Hub operates on Saturdays and Sundays from 10 am to 4 pm between January 15 and March 20, 2022 as well as Islander Day on Monday, February 21. Parking is available daily to access the winter trailheads leading to the Cavendish Grove and Homestead Trails.
Washroom facilities are available at the Hub during operational hours on Saturdays and Sundays.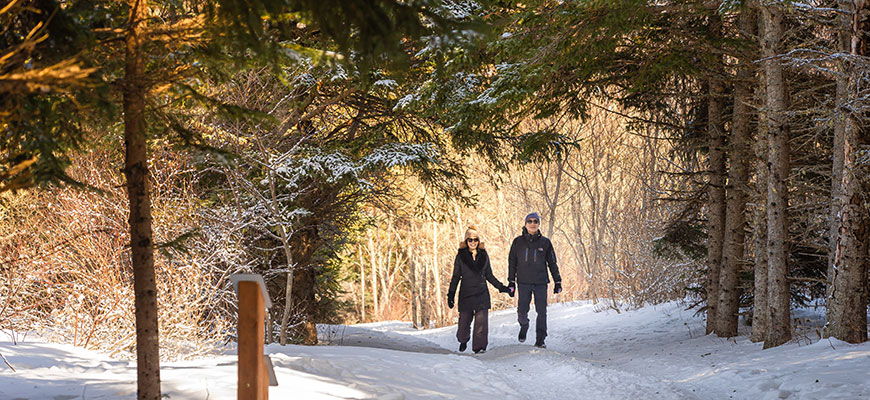 Parks Canada is pleased to be collaborating with Tourism Cavendish Beach on a pilot project to offer groomed winter trails for fat bikes, snowshoes and hiking in Cavendish, Prince Edward Island National Park.
Visit the following sites for updates on trail conditions as they are available:
Please note that conditions are not regularly patrolled and trail conditions can change quickly.
The following trails will be groomed as a dual track, pending appropriate weather conditions. Please note: Trail users must stay on the side of the trail designated for their specific activity, to ensure that trails are kept in the best possible condition for users. Learn more about trail etiquette and safety below.
Cavendish Dunelands connecting to Cavendish Grove trails:
2.9 km loop, beginning and ending at the Winter Activity Hub.
Suitable for beginners.
Groomed for fat bikes, snowshoes and walking.
Trail passes through a sugar maple stand and by Cavendish Beach.
Homestead Trail loops:
6km and 10km loops beginning and ending at the Winter Activity Hub, groomed for fat bikes, snowshoes and walkers.
Simpson loop is 6km and is considered challenging.
MacNeill loop is 10km and is considered very challenging.
Trail passes through forest and farmland along the shores of New London Bay.
Ungroomed trails
Trails not identified will not be groomed or maintained. Orientation may be difficult and natural hazards may be present on non-maintained trails, increasing the risk of serious injury. For this reason, it is strongly encouraged to remain on marked trails.
Map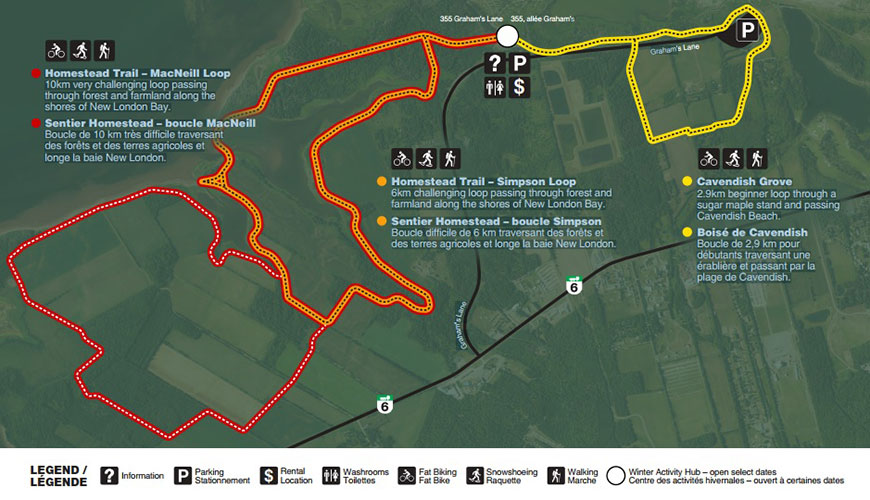 Download a trail map (PDF, 14.6 MB)
Fat biking:
Only ride on trails designated for fat bikes.
Tires should be wider than 3.8 inches.
Tire pressure should be less than 8 psi.
Do not leave a rut deeper than one inch in the snow.
Yield to snowshoers and walkers.
Snowshoeing:
Snowshoeing is allowed on all trails.
Don't posthole (leave deep foot holes). When snowshoeing, keep snowshoes on at all times, unless the
trail is so hard packed that no tracks are left behind.
Walking:
Walk only on trails identified for walking.
All walking trails are shared with other types of activities. Please share the trail.
Safety notes
It is your responsibility to seek out safety information, obey signs and be prepared. You are responsible for your own safety and security!
Know your limit, bring the appropriate equipment and let someone know where you are going and when you plan to return.
Avoid hypothermia and frostbite by dressing appropriately. Be prepared for rapidly changing weather conditions. Check air temperature and wind chill factor before going out.
Dogs must be on leash at all times while on the trails. Please keep alert for other trail users and bikes.
Fat bike riders are required to wear helmets and must yield to walkers and snowshoers.
In case of a lost person, injured wildlife, forest fire, etc., call Parks Canada Dispatch at 1-877-852-3100.
In case of an accident or emergency call 911. Be prepared for the possibility that you may have to wait for help if you have an accident.
Cell phone coverage is not available everywhere.
For more information about visitor safety, please visit: Winter safety.
Parks Canada provides fat bike and snowshoe equipment rental services on weekends at the Winter Activity Hub.
Snowshoe rentals are available for half day or full day, and can be booked online in advance online.
The following sized snowshoes are available:
- 17" (kids)
- 25" (120 to 180 lbs)
- 30" (160 to 220 lbs)
- 36" (220 to 300 lbs)
Fat bike rentals are available for 1.5 hours or 3 hours on a first come first served basis.
- 5 medium-sized fat bikes are available, suitable for riders measuring 5'4" to 5'10".
NOTE: Helmets are required to be worn by all riders.
Poles and helmets are also available for rent on a first come first served basis.
Pricing

| | | | |
| --- | --- | --- | --- |
| | 1.5 hours | 3 hours | 6 hours |
| Snowshoes | | $7.00 | $14.00 |
| Poles | | $4.00 | |
| Fat bikes | $25.00 | $50.00 | |
| Helmets | | $5.00 | |
Phone numbers
Winter Activity Hub : 902-314-0250
Monitored Wednesday to Sunday, 10 am to 4 pm


Parks Canada PEI General Inquiries: 902-672-6350
Monitored Monday to Friday, 9 am to 4 pm
Merchandise
During the winter months, check out Parks Canada's official merchandise available for purchase at the Winter Activity Hub.