Registration
Thaidene Nene National Park Reserve
Visitor Registration
Privacy Notice: Visitor Registration
Visitors travelling unguided in Thaidene Nene National Park Reserve are expected to be self-reliant and responsible for their own safety. Your preparedness, knowledge, skill and physical fitness must align with the degree of difficulty of the activities you plan to undertake. This isn't the place for inexperienced backcountry travellers. Make sure you and your group have the necessary wilderness and first aid skills, or take a guided trip with one of our outfitters. You are expected to be prepared for all types of weather and water conditions. Plan to travel so that you leave no trace of your visit.
Who needs to register?
Visitor registration applies to people who are sightseeing, fishing, adventuring or simply travelling through the National Park Reserve. Visitors can be people from Yellowknife, Canada or elsewhere in the world. Indigenous people who are harvesting or practicing traditional use are not considered visitors. Individuals who hold leases within the Indigenous Protected Area are also not considered visitors.
If you are travelling to Thaidene Nene National Park Reserve as part of a guided trip, your tour operator will register your visit.
If you are travelling to that National Park Reserve on a self-guided trip, you will need to register.
What you need to know
All visitors must register before entering Thaidene Nene National Park Reserve.
The registration process provides staff with information required in an emergency situation, as well as helping us understand visitor use. You will be asked to provide contact information for yourself and an emergency contact. You'll also need to know your trip details, including your route, the colour of camping gear and vessel numbers and type when you register.
Groups are asked to limit themselves to 15 people. If your group is larger than 15, please contact us.
There is no fee to register.
Activation of Search and Rescue
At this time, we are not asking groups to de-register. Your emergency contact must get in touch with us if your group is overdue. Please inform your emergency contact to call our emergency number (monitored 24/7) if your party has not returned as planned and/or has missed a scheduled check-in for over 24 hours.
Plan Your Trip
If you're unfamiliar with the area, make early contact with staff to discuss your trip well in advance. Carefully review the visitor safety information, including the bear safety information. Understand where you are planning to go and the challenges associated with that particular route and area of the park. Ensure you are properly provisioned and equipped for the trip, including the knowledge, skills, and physical fitness required for the activities you plan to undertake.
Parks Canada: 867-766-8460 (messages returned Monday to Friday) or thaidene.nene@pc.gc.ca
Łutsël K'é Dene Band (Thaidene Nëné Department): tdndepartment@gmail.com
If you plan on visiting the community of Łutsël K'é please contact tdndepartment@gmail.com prior to travelling.
Knowledge is the key to a safe and enjoyable trip. Independent travellers are advised to carefully map their route, develop a safety plan, and to be very thorough in preparing their equipment and provisions.
Recommendations
Here are some recommendations for preparing your trip. Please note that this list is not exhaustive.
Carry a satellite phone, compass, and GPS and be familiar with their proper use.
Carry effective bear deterrents, such as bear spray, and know how to use them.
If you plan on placing food caches within the National Park Reserve, you must contact Park staff for permission and advice on approved storage containers and locations.
The choice of clothing and equipment can make or break a trip. Be prepared for variable weather, including cold and snow at any time of year.
Ensure adequate provisions. Pack what you determine you need plus an allowance for weather delay.
Read the Visitor Safety information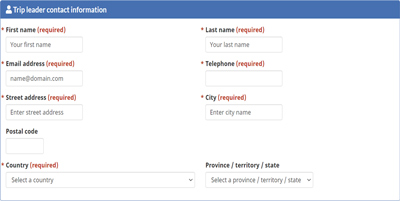 If you are having any issues with the form, please let us know.
Parks Canada: 867-766-8460 (messages returned Monday to Friday) or thaidene.nene@pc.gc.ca