Aulavik, meaning " place where people travel " in Inuvialuktun, protects more than 12,000 square kilometres of arctic lowlands on the north end of Banks Island. The park encompasses a variety of landscapes from fertile river valleys to polar deserts, buttes and badlands, rolling hills, and bold seacoasts.
Aulavik National Park is one of the most isolated parks in North America, and rescue services and facilities are limited. If you are considering visiting the park, read the FAQ below. It is important for visitors to be self-sufficient, self-reliant, and capable of handling emergencies. Parks Canada has a search and rescue team based in Inuvik, however, rescue operations are dependent on weather, aircraft or staff availability. Response times could be anywhere from 1-2 days or more depending on the circumstances. Additionally, due to the impacts of COVID-19, rescue services are greatly reduced.
Featured things to do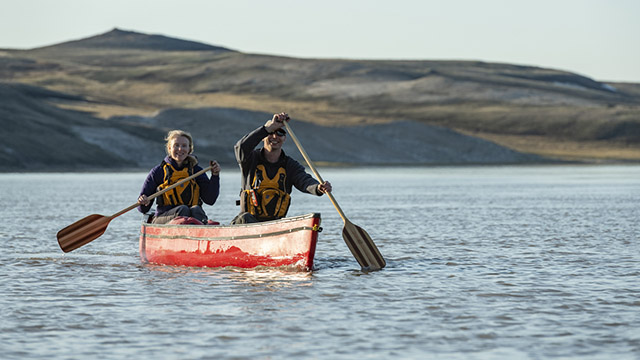 The gentle Thomsen River runs the length of Aulavik National Park.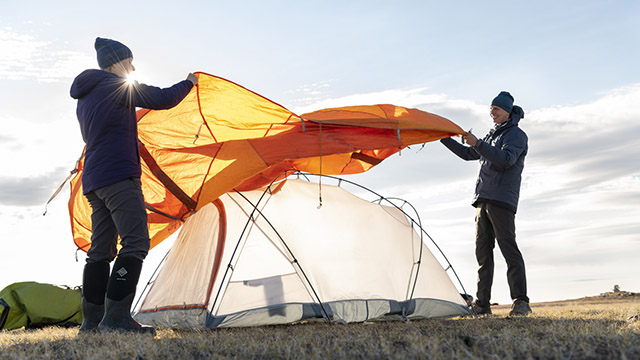 Whether hiking or paddling, there are an endless number of beautiful sites to choose from.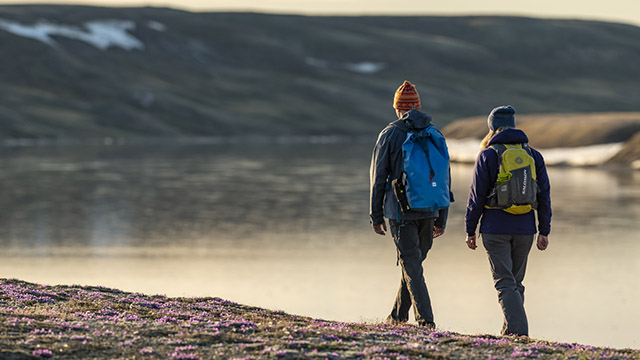 Trek through rolling lowland tundra in the rich Thomsen River corridor, exploring ancient native sites, encountering muskoxen and Arctic wildlife and enjoying scenic vistas.
Frequently Asked Questions

Who can visit Aulavik National Park?

Effective April 1, 2022 anyone regardless of vaccine status can enter the NWT, and self-isolation plans are no longer required.

For more information on entering the NWT, please visit: https://www.hss.gov.nt.ca/en/services/covid-19.

What are the restrictions for entering Aulavik National Park?

All visitors must obtain a Parks Canada permit and must register prior to entering Aulavik National Park. Please contact infoinuvik-inuvikinfo@pc.gc.ca for more information.

All visitor groups that require a stop in the community of Sachs Harbour en route to Aulavik National Park should contact the Hamlet of Sachs Harbour prior to booking their trip. This is necessary to receive the most current information on access, restrictions or precautions in Sachs Harbour for the ongoing COVID-19 pandemic.

Additionally, any visitors planning to leave Aulavik National Park boundaries are required to contact:

the local RCMP to give them their estimated time of arrival to the community, and a list of who will be traveling;
the Inuvialuit Land Administration to make sure all rules, regulations and guidelines are followed on Inuvialuit lands; and
the local Hunters & Trappers Committee to ensure local harvesters are aware if they happen across any person(s) during their travels.

What are the restrictions for paddling the Thomsen River?

For non-commercial paddling groups, Parks Canada requires a minimum of two watercrafts per party to maximize the ability to self-rescue. Additionally, each party will be required to carry a communication device (i.e. Garmin inReach), and submit contact numbers prior to registration.
More places to discover with Parks Canada
Rafters from around the world meet up in Ivvavik National Park. The Firth River slices through canyons and mountain valleys to the Arctic Ocean.  A fly-in base camp offers hikers access to an Arctic landscape of tors, peaks and rolling hills untouched by the last Ice Age.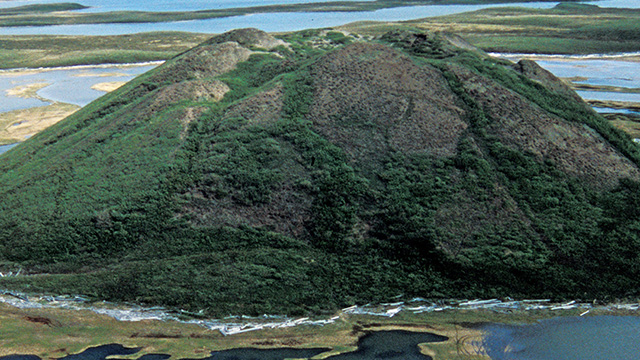 Pingo Canadian Landmark protects a unique arctic landform: ice-cored hills called pingos. Rising out of the flat tundra, these hills provide a distinctive backdrop to the community of Tuktoyaktuk, Northwest Territories.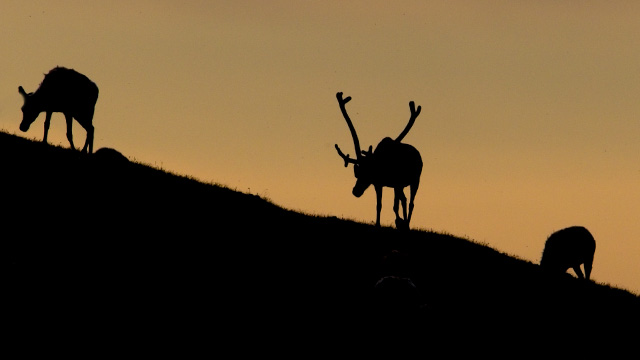 Arctic rivers, waterfalls, canyons and tundra combine to provide habitat for caribou, muskoxen, wolves and other arctic species.