The changing forest of Jeremy's Bay Campground
Kejimkujik National Park and National Historic Site
Parks Canada knows that many campers feel a special connection to Jeremy's Bay Campground. We understand that it is difficult to witness change in the places we love – in this case, drastic and rapid change as a result of an invasive, human-introduced species.
Eastern hemlock, the defining tree of Kejimkujik
One of the longest-lived trees in eastern Canada, eastern hemlocks and the cool, shaded forests they create are an essential part of the Kejimkujik experience; indeed, many visitor facilities and iconic places are located in hemlock stands.
A new threat
Hemlock woolly adelgid (HWA) is an aphid-like insect that kills hemlock trees. The insect, first detected in Kejimkujik in 2018, is a significant threat: up to 80 percent of the park's hemlock trees could be lost over the next three to ten years.
What changes will campers see?
Taking care of the forest and protecting campground infrastructure will change the aesthetics of the campground. Parks Canada has adopted an active management approach in Jeremy's Bay Campground using restorative silviculture to help the hemlock-dominant forest withstand this invasion. This includes cutting hemlock trees and planting saplings to allow other species to grow. We are leaving some of the felled trees on the ground, to contribute to soil nutrient cycles and provide protection for regeneration and planted trees.
Parks Canada staff have applied various landscaping techniques within the campground to mimic the natural look that campers are used to seeing at Jeremy's Bay Campground. For example, some logs are being used to border campsites, while others are being used for rustic benches. Some logs are also being used to limit erosion around inclined areas.
As hemlock trees die, we will leave most of the forest to transition naturally. However, Parks Canada is researching various options to save priority old-growth hemlock stands and those that visitors have been enjoying for decades – for example, at Mill Falls, Jeremy's Bay Campground and Hemlocks and Hardwoods trail.
Growing a new, more resilient forest at Jeremy's Bay Campground
A more diverse forest containing many species and tree ages is more able to withstand pests, disease, storms, and climate change; currently, the forest of Jeremy's Bay Campground is made up of 35-50% hemlock, with some stands as high as 90%.
Parks Canada plans to diversify the regeneration of the Jeremy's Bay Campground forest over the next two years by
removing 30% of hemlock trees (3,500) to increase light availability to the forest floor. This will promote the establishment of other, more resilient species. Increased light levels may also slow the spread and reduce the overall population of HWA, and further enhance the health of remaining hemlock trees;
planting or transplanting 2,000 trees of other species such as red oak, yellow birch, sugar maple, red spruce and white pine to initiate diverse regeneration after the loss of hemlock trees.
In winter of 2021 (February and March), we removed approximately 1,000 hemlock trees from JBC and identified areas for tree planting and restoration work.
Firewood importation ban: slowing the spread of invasive species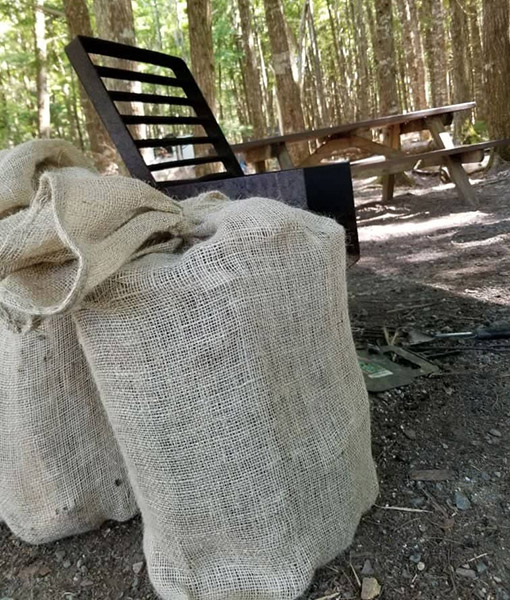 All imported firewood is prohibited and only firewood purchased in the park is permitted, with some specific exceptions. Parks Canada has been working closely with CFIA for detection and control measures, including a firewood importation ban. Hemlock woolly adelgid is regulated by the Canadian Food Inspection Agency (CFIA).
The control of firewood importation is important to protect the forest, reducing further spread of HWA and limiting the introduction of other invasive insects such as the Emerald ash borer recently found in New Brunswick and fire ants already present in Halifax Regional Municipality.
Visitors who would like to have a campfire can:
purchase firewood at Kejimkujik

Where to purchase bundles of kiln-dried kindling and wood at Kejimkujik.

Kejimkujik's firewood will continue to be supplied by the Friends of Keji Cooperating Association, a non-profit group that supports park programs and services.

When purchasing firewood in the park, visitors will receive a firewood permit at no cost. Visitors may be asked to produce this permit during their visit. Those without a valid firewood permit may have their firewood seized, fined $237.50 per incident, and may have their camping permit cancelled.
bring commercially available heat-treated kiln-dried firewood, fibre logs, or processed fire bricks in the original sealed packaging.

Please note that lumber does not meet the criteria and will not be permitted for use in campfires.

Visitors to the park will be required to relinquish any firewood they bring to the park that does not meet the requirements outlined above for packaged wood.
We need your help! Visitors play a key role in the forest renewal at Jeremy's Bay Campground.
Be aware of the impact that YOU have in slowing the spread of HWA and other invasive pests.
Leave tree limbs and forest debris alone (do not move, gather, or burn).
Mind the fenced exclosures: these protect young saplings from deer and people.
Play Clean Go Canada: follow recommended biosecurity measures by decontaminating your pets, vehicles, and shoes before entering and before leaving Kejimkujik.
Stay on the trails so you don't trample new vegetation.
Talk about it with someone! HWA and other invasive pests are a problem here, but also at home. Sharing information is one way to help stop their spread.
Learn more:
Protecting Kejimkujik's hemlock legacy, Kejimkujik National Park and National Historic Site