Backcountry camping
Kejimkujik National Park and National Historic Site
Experience the tranquil wilderness and ancestral home of the Mi'kmaq on a backcountry camping trip. Over 80% of Kejimkujik is accessible by canoe or hiking only. There are 47 backcountry camping sites spread out over 17 lakes and connected by multiple rivers and streams. Campsites, trails, and portages enable you to travel safely without disturbing the land.
Backcountry hiking trails, Liberty Lake, Channel Lake, Big Dam, Frozen Ocean, reservations, safety.
Backcountry paddle routes, portages, equipment rentals, guides, canoe, kayak, stand-up paddleboard.
Kejimkujik backcountry and firewood drops.
Reservation launch dates
Parks Canada will be launching reservations for the 2024 visitor season starting in January.
Reservations
Backcountry camping is available from Victoria Day weekend (mid-May) to the end of October, with some limited spring camping available from April to mid-May. Camping is not permitted from November to April.
Parks Canada Reservation Service
1-877-RESERVE (737-3783)
Outside of North America: 519-826-5391
Cost: See prices
Spring camping for fishers
A very limited number of backcountry camping sites are available by self-registration from April 1 to May 18, 2023.
Available sites: Rogers Brook cabin and backcountry sites 12, 13, and 14 only.
Note:
Sites are available on a first come, first serve basis via a self-registration book at the Visitor Centre.
Boat access will be available at Jakes Landing.
Visitors must be prepared: bring a camp stove and toilet paper.
Deadfall may be present.
Updates: 902-682-2770
Campsites and rustic cabins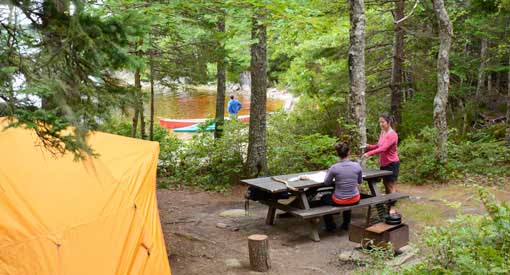 Each site includes two tent pads (12 ft x 12 ft), a picnic table, a pit privy, a fire pit, and bear cables for hoisting food.
Most campsites have a fire box and firewood (with the exception of sites 17, 41, 42, and 43). Wood supply may vary through the year and visitors should be prepared to cook on a camp stove.
All sites have some amount of shade.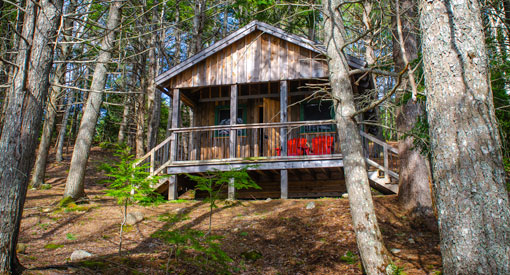 There are two backcountry cabins:
Mason's (W1)
Wil-Bo-Wil (W2)
These rustic cabins are very basic so you must bring everything you would need at a normal backcountry site, other than your tents.
What you need to do
Make a reservation with the Parks Canada Reservation System (PCRS).
Choose one of the following ways to register your trip and obtain permits required for camping, parking, and campfires:

By email a few days before your trip. The Visitor Centre team will send an email a few days before your trip. Respond to this email to make your check-in easier and faster.
At the Visitor Centre when you arrive.
By telephone if the Visitor Centre will be closed when you arrive: 902-682-2772.

Let your emergency contact know your plans at the beginning of your trip.
Be prepared, follow the rules, and have a great camping trip!
Check out with your emergency contact at the end of your trip. No need to check out with the Visitor Centre.
Be prepared
Registration details

Kejimkujik is dedicated to preserving nature and fostering an understanding of sound camping practices. To ensure an enjoyable wilderness experience, now and in the future, please observe the following regulations and practices.

Registration, rules, and regulations
Registration:

Even with a reservation, you must register for backcountry camping prior to your trip.

Consult with the staff at Kejimkujik in regard to current and long-range weather forecasts, known hazards, policies, regulations, and available safety information.

Registration after hours is not available. If you will be arriving when the visitor centre is closed, please have your permit issued in advance by calling 902-682-2772.

Permits:

Permits must be issued prior to proceeding into the backcountry, even if you have a reservation. Please stop at the kiosk, when entering the park, to receive your permit.

If you will be arriving when the visitor centre is closed, please have your permit issued in advance by calling 902-682-2772.

Please be sure to display a copy of your entrance permit on your vehicle dash.

After hours registration:

Registration after hours is not available.

If you will be arriving when the visitor centre is closed, please have your permit issued in advance by calling 902-682-2772.

Check in time:

Any time on the date of arrival. Please keep in mind that the site may be occupied until 12 pm.

Permit must be issued from the visitor centre in time for you to reach your campsite during daylight hours.

Check out time:

Before 12 pm.

Quiet hours:

No excessive noise at any time

Maximum length of stay:

The maximum consecutive stay per backcountry site is 2 nights.

The maximum length of stay in the backcountry is 21 nights total.

Maximum persons per site:

Maximum 6 people per site except sites C (Big Dam Lake), 7 (Frozen Ocean Lake), and 12 (Ritchie Island, Kejimkujik Lake), which are maximum 10 people.

Maximum camping units per site:

2 medium sized tents (4 person), or 4 small tents (2 person) per site (all must fit on tent pads).

For sites C, 7, and 12, 3 medium sized tents (4 person), or 6 small tents (2 person) per site (all must fit on tent pads).

Reservations

There is no limit on the number of reservations you can make for yourself or others, provided the fees are paid and complete booking information is provided for each.

Each reservation must be secured by a NON-REFUNDABLE reservation fee and complete payment of all camping fees.

Each reservation includes all sites reserved consecutively for ONE backcountry trip (21 night maximum).

Each site may be booked for a maximum of two consecutive nights.

Payments for all reservations must be made with a major credit card.

Changes and cancellations

If you cannot make your trip at the time you have reserved, you will be refunded all camping fees (less the reservation fee and a cancellation fee), as long as you notify the Parks Canada Reservation Service no less than three days preceding your reserved date of arrival.

If you wish to make a change or an addition to your reservation, you will be required to pay a modification fee.

Reservations not claimed on the scheduled date of arrival will be cancelled by noon of the following day.

If there is no vacancy for your dates

Kejimkujik does not have backcountry sites available on a first come first served basis. If there are no sites available for the dates selected, you can either select different dates or reserve a site in our front country campground.
Visitor guidelines

Visitor guidelines
Fire policy:

A fireplace is provided for evening fires at each campsite. Open fires may be built in these fireplaces only. Please build small fires to conserve firewood.

Campfires are not permitted at all backcountry locations.

Please note: you may only make a fire in the pit provided for this purpose.

You may not gather any wood, bark, or kindling from the forest. Burn only the firewood provided. Make your kindling from this firewood. Be sure to bring an axe or hatchet.

Alcohol and cannibas policy:

Alcohol and cannabis consumption is permitted on registered Parks Canada campsites, but is prohibited in all other campground common areas (including beaches, playgrounds, and other public areas).

Pet policy:

Pets must be kept on a leash at all times. Pets must not be left unattended. You must pick up after your pet at all times.

Pets are a threat to wildlife and wildlife can hurt pets. We recommend that they not be taken into the backcountry.

Food and garbage:

Never store food in your tent. Raccoons, bears, and other animals are attracted to food and food waste. Food should be sealed and stored using the food storage devices on each campsite. Campers must use the supports provided for hanging food and all substances which may attract wildlife.

Campers must pack out all garbage. Bags can be provided upon request at registration.

Do not dump garbage in the pit privies.

Do not burn garbage. You must bring all your waste back out with you. Sorting stations are available at the various backcountry parking areas.

Designated campsites

You may camp only on designated campsites, pitching your tent on tent pads provided.

Firearms

Firearms are prohibited within Kejimkujik.

Fishing:

Fishing is permitted from April 1 to August 31

A National Park Fishing Permit is required to fish in Kejimkujik. This is completely independent of a provincial fishing license.

All non-invasive fish are catch and release only, only barbless hooks are allowed, and no natural bait of any kind is permitted.

---
If your campsite is accessible by hiking

Wilderness hiking on the backcountry trails in Kejimkujik is difficult. There are three backcountry trails: #16 Eel Weir to Fire Tower, #17 Channel Lake, and #18 Liberty Lake.

The Liberty Lake Loop is an extremely difficult trail to complete, even for experienced hikers, due to the trail passing through some very boggy areas and the trail being difficult to follow in sections.

Before booking this trip, please talk to an attendant at the visitor centre 902-682-2772.

Hiking distances to campsites

Please note: If the site you want to hike to is not on the list below, it is not accessible by hiking or biking.

Big Dam — One Way
Eel Weir — One Way
Site #
Km
Hours
Km
Hours
A
0.21
5 min
59.2
17
B
0.42
10 min
59
17
C
0.52
12 min
58.9
17
D
0.64
15 min
58.4
16.5
1
1.3
0.5
58.1
16.5
3
3.2
1
56.2
16
5
11.5
3.5
50.9
14.5
6
13
4
51.2
14.5
7
12.2
3.5
47.2
14
17
5
1.5
59.2
17
22
35.6
12
36.8
13
25
63.7
18.5
8
3
W2 (wilbowil)
51
14
8
3
37 (W1 - Mason's)
41
12
18.4
6
38
44.8
12.5
18.2
5
41
34.8
10
23
7
42
25
7
34
11
43
17.8
5.5
50
15
44
14
4.5
45.4
13
45
11
3
48.4
14
46
10
3
49.4
14.5



If your campsite is accessible by water

NEW Navigation buoys will no longer be on Kejimkujik Lake. Visitors must come prepared to navigate to their campsite via map and compass and GPS enabled device.

Check water levels with visitor centre staff.

We suggest traveling on the lakes in the morning to avoid windy afternoon conditions. Travelling on lakes may be difficult during high winds, so it's always best to get an early start.

Rivers and streams are generally lazy and easy to travel on.

Paddling distances to campsites

Please note: Different distances are given for certain sites as there are different routes to get there depending on the portage chosen. The portage is indicated in ().

If the site you wish to stay at is not on the list below, then it is not accessible by canoe.

Distances (km) — One way
Site #
Big Dam
Jake's
Eel Weir
Y1
n/a
0
n/a
1
1.5
24
2
2.25
23.5
3
3
22.5
4
4
21
5
8.5
16.75
6
9
16.5
7
9.5
16
8
10.5
15
9
15.5
9.5
10
16
9
13
11
19
6.5
10
12
33.25
2
7
13
33.5
2
7
14
33.75
2.5
6.5
15
32.5
3
6.5
16
33
5.5
6
17
16
11
16
18
6.5
3.5
19
6.5
3
20
5.5
8.5
21
23.5
9.5
13
22
24
10.5
13.5
23
11
2.5
24
7
4
25
9.5
7
26
11.5 (E)
9.5 (E)
12 (A)
9 (A)
27
12.5 (E)
10.5 (E)
11 (A)
9 (A)
W2
13.5
11.5
29
13.5
11.5
30
15
13
31
11.5
9
32
12
9.5
34
14.5
11
37 (W1)


17
15
38
17
15
40


20
17.5
41
17
44
11
17
21.5
45
9.5
17.5
22
46
10
18
22.5



What to bring (essentials)

What to bring
Water

Please carry in water, or bring a filtration system or purification tablets. Water is not provided.

Never assume that any water source in the backcountry is safe to drink.

Fuel and a portable camp stove for cooking

Wood supply may vary through the year and visitors should be prepared to cook on a camp stove.

Be aware that charcoal is permitted but considered an open fire and may be banned in dry conditions. Gas camp stoves are always permitted.

Check important bulletins for current advisories and warnings

An axe

An axe to make kindling from the firewood provided on your site.

Note: not all backcountry sites will have wood provided. Wood drop maps are available at the visitor center.

A map and compass

Topographical map such as Kejimkujik's Backcountry Guide, available for download or for purchase at the Visitor Centre.

A map and compass and know how to use them. A GPS unit is a good additional tool but doesn't take the place of map and compass.

A canoe or kayak

Most campsites are only accessible by water. If unsure about the site you are booking, contact the Keji visitor centre at 902-682-2772.

If canoe rentals are required, please contact Whynot Adventure at 902-682-2282 or online at info@whynotadventure.ca.

Bug spray

---

Equipment rentals

Equipment rentals are available online from Whynot Adventure, the Keji Outfitters. Reservations must be made online in advance. Pick up your rental at Jake's Landing.

More information

Mountain Equipment Co-op Hiking checklists

Leave No Trace Canada's Leave No Trace Principles
Safety

You are responsible for your own safety. Be prepared for changing weather conditions, be aware of hazards, and have adequate information and equipment to ensure a safe visit.

Safety
Safety:

Your own safety is your first responsibility.

Be realistic about your abilities. Plan for your least-experienced and least-able group member. Provide for extra time and provisions.

Be prepared for emergencies, medical or otherwise.

Ensure you have enough daylight time to travel safely to your designated campsite.

We suggest traveling on the lakes in the morning to avoid windy afternoon conditions.

We recommend you bring a park topographic map and a compass, or a GPS, and know how to use them.

Access to drinking water can be sparse along some sections; be prepared to collect water and to carry it with you. Purify all water taken from backcountry water sources.

Carrying a cell phone is a good idea but beware that coverage is unpredictable.

Water safety:

Travelling on lakes may be difficult during high winds, so it's always best to get an early start.

Rivers and streams are generally lazy and easy to travel on. Check water levels with staff at the visitor centre.

Swimming suitability varies from site to site, depending on water depth on approach to site.