oTENTiks and Ôasis
Terra Nova National Park
Operating season:
Newman Sound - May 19 to October 9, 2023
Malady Head - June 23 to September 10, 2023
Camp in comfort at either Newman Sound or Malady Head campgrounds in a Parks Canada Ôasis or oTENTik! Spend less time setting up and more time exploring this Newfoundland wilderness. Bring your camping supplies, food, and your speciality accommodations does the rest. Equipment rentals are even available at the Happy Adventure Tours kiosk by the Visitor Centre.
Unit descriptions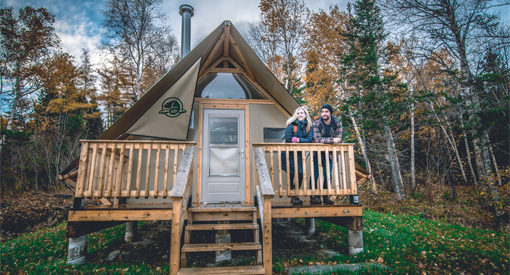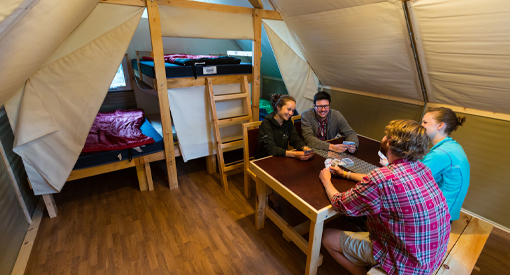 oTENTiks sleep six people on thick, canvas covered sleeping mattress. In Terra Nova, each oTENTik has its own barbecue. For specific features such as ramps and heating, refer to the individual site details on the reservation system.
Two accessible oTENTiks are available: #186 (Newman Sound) and #94 (Malady Head)
Five pet-friendly oTENTiks are available: #83, #84, #505, #507 (Newman Sound) and #93 (Malady Head)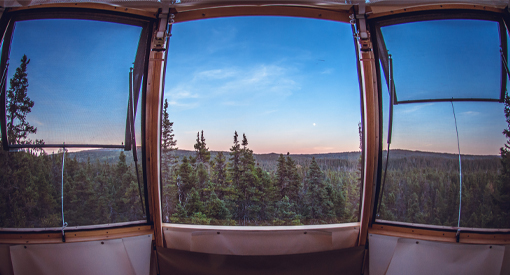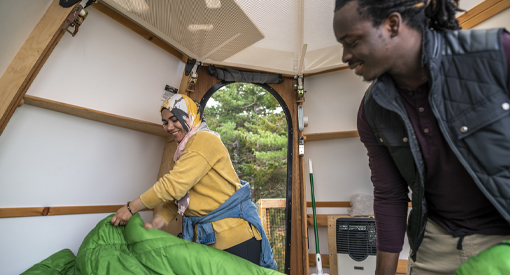 Ôasis are out of this world—and since Terra Nova is Newfoundland's only Dark Sky Preserve that really means something. The top windows provide an amazing way to stargaze. A unique experience for couples or small families with young children. A convertible table-to-bed sleeps two and a loft hammock sleeps one-to-two people (recommended limit: 150 lbs).
What to bring
Sleeping bags
Blankets and pillows (extra blankets and sleeping bags are recommended in May, June, September and October)
Water container
Cooking equipment


Dishes, eating utensils
Cooler
Flashlights
Lighter or matches for lighting the campfire
Camping chairs
Slippers or indoor shoes
Additional information
General accommodation information

Kiosk hours:

Malady Head: Check with the Park Administration (709-533-2801 year round or Malady Head kiosk 709-533-6774 June 23 to September 10, 2023)
Newman Sound: Check with the Park Administration (709-533-2801 year round or Newman Sound kiosk 709-533-3159 May 19 to October 9, 2023)

After hours registration:

For accommodation in Newman Sound campground:

From May 19 to October 9 contact the Administration Office between 8:30 am to 4:30 pm, Monday to Friday. If arriving late, you must contact us at 709-533-3159 prior to 4:30 pm to make arrangements to pick up your key.
If arriving after kiosk operating hours, please register for your accommodation at the Newman Sound campground kiosk with the campground security staff at 709-571-0472.
After hours emergency number 709-533-6090 or 1-877-852-3100.




For accommodation in Malady Head campground:

From June 23 to September 10 contact the Administration Office at 709-533-2801 between the hours of 8:30 a.m. to 4:30 p.m., Monday to Friday or Malady Head campground between 08:00 a.m. to 4:30 p.m., Monday to Sunday. If arriving late, you must contact us at 709-533-2801 or 709-533-3159 prior to 4:30 p.m. to make arrangements to pick up your key.
From June 23 to September 10, please register for your accommodation at the Malady Head campground kiosk with the campground security staff if arriving after kiosk operating hours.
After hours emergency number 709-533-6090 or 1-877-852-3100.

Check in time:

Check out time:

Quiet hours:

24:00/12 o'clock midnight to 7:00 a.m

Minimum length of stay:

Maximum length of stay:

Maximum persons per site:

oTENTiks: 6 people
Ôasis: 4 people (maximum 2 adults). Hammock restrictions is a maximum total weight 150 lbs)

Maximum vehicles per site:

Extra camping units per site:

Cooking / food preparation:

There is no cooking permitted in the accommodations. There are nearby cook shelters for meal preparation. Each site also has a barbecue. It is not permitted to burn wood in the barbecues and charcoal barbecues are not permitted.

Generator policy:

The oTENTik and Ôasis loops are generator free zones.

Fire policy:

Firewood is sold by the bundle. Firewood is available for purchase at Newman Sound grocery store or in local communities.
In designated fire pits only.
No other open fires are permitted.
No charcoal barbecues or portable wood burning firepits are allowed in Newman Sound campground.
Firewood is available for purchase at Newman Sound convenience store or in local communities.
Propane fire pits are permitted in Newman Sound campground and are subject to the fire weather index regulations.

Alcohol policy:

Alcohol can be consumed on registered sites only (not at communal firepits, kitchen shelters, washrooms, etc.).

Pet policy:

Pets are permitted in oTENTiks #83, #84, #505 and #507 (Newman Sound) and #93 (Malady Head) only. All other units are pet free.
Pets must be leashed at all times. They must not be left unattended.
Pet owners are asked to collect and dispose of any solid pet waste.

Internet / Wi-Fi access:

There is Wi-Fi access to visitors at the Newman Sound grocery store (hot spot), Visitor Centre and at certain locations throughout the campground.
There is no Wi-Fi access at Malady Head Campground.

Fees

For information regarding fees for Terra Nova National Park please see our Fees page.

Contact information

Administration office (8:30 am to 4:30 pm, Monday to Friday, year round)

Newman Sound kiosk (seasonal)

Malady Head kiosk (seasonal)

Visitor Centre (seasonal)

Reservation service:

General park information:

Telephone: 1-888-773-8888

8 am to 8 pm Eastern Time, April to September
10 am to 6 pm Eastern Time, October to March

Emergency contacts:

Parks Canada has 24/7 Emergency Dispatch Centres that receive reports and assist in the management of visitor safety, wildlife, law enforcement or wildfire incidents.

1-877-852-3100
1-709-533-6090
Duty Officer: 1-709-571-0470

Other emergency contacts

RCMP: 1-709-533-2828
Ambulance: 1-709-533-2111
Fire Department: 1-709-533-1111

Terms and definitions

Site-specific

Guests select the specific campsite or accommodation when they make their reservation. All front-country camping reservations made through the Parks Canada Reservation Service (PCRS) are site-specific reservations.

Operating Season (Nights)

The "Operating Season" is the nights that the campground is open. Sometimes the campgrounds are open for longer than the period for which they accept reservations. Any dates of the "Operating Season" outside of the "Reservable Period" are dates that the campground operates on a first come, first served basis only.

Reservable Period (Nights)

The "Reservable Period" is the nights for which you can make a camping or accommodation reservation. Note that many campgrounds may be open longer than this period, and operate outside of these dates on a first-come, first-served basis.

Kiosk

The administration/entrance booth of a particular campground, this is where you "check-in" and register your arrival.

Vehicle

Car, truck, motorcycle, truck-camper, motorhome, or recreational vehicle. A motor home pulling another vehicle may count as two vehicles.

Camping Unit

Tent, tent-trailer, truck-camper, trailer, 5th wheel, motorhome or recreational vehicle.

Serviced Site

Refers to a campsite offering either electrical, water, and/or sewer hook-ups or any combination of these services directly on the campsite. Fully-serviced sites offer electrical, potable water, and sewer hook-ups. "Unserviced" sites do not offer any of these hook-ups.

The terms "serviced" and "unserviced" refer to the individual campsites; they do not refer to the washroom facilities or other amenities available at the campground.

Drive-through Site

Campsite where the driver does not have to reverse their vehicle to exit (there is a separate entrance and exit to the individual campsite). Ideal for larger vehicles and trailers.

Walk-in Site

Campsite which requires some degree of walking to access the site, and therefore requires a tent. Vehicle will be parked a short distance away.

Overflow Site

Overflow campsites vary from park to park, and may range from a paved area to park a camping unit (not generally suitable for tents) to a more traditional, grassy site. They are unserviced and are not reservable.

Accessible Site

A campsite which is accessible to guests with limited mobility.

Firepit

A designated structure for campfires located on a campsite. Check availability, as not all campsites offer a fire pit. In some parks, a fire permit is required to have a fire.

In some parks, only communal firepits are available, and access is shared with other guests.

Fire permit

In some campgrounds, guests will require a valid fire permit to have a campfire. A fire permit may include firewood. Please refer to the 'Fire policy' section of the QRT for individual campground policies.

Firewood

In some campgrounds firewood is sold by the bundle, whereas in others a fire permit may give the holder access to the campground wood pile. Please refer to the 'Fire policy' section of the QRT for individual campground policies.

First-come, First-served Site

Campsites that are available on a first come, first served basis only. These sites are only available to guests who are physically located at the campground. These sites cannot be registered over the telephone or on-line. These campsites may be available for only 1 night or for multiple nights depending on availability.

Shoulder Season

Shoulder season refers to the season before and after the peak season. While many campgrounds remain open outside of their peak season, the services offered during this period may be limited (please check with the park for more details).

Entrance Pass

A valid National Park Entrance Pass is required for all visitors to National Parks that have entry fees.

Daily Entrance Pass

A daily entrance pass permits visitor's unlimited entry to the specified park on a per day basis for the period of time indicated.

Annual/Seasonal Entrance Pass

An annual or seasonal entrance pass permits visitor's unlimited entry to the specified park for the period of time indicated.

Parks Canada Discovery Pass

The Parks Canada Discovery Pass permits visitors unlimited entry to the participating Parks Canada national parks and national historic sites across Canada, for a period of 12 months.

---