Backcountry locations
Terra Nova National Park
Operating season: May 19 to October 9, 2023
There's no better way to experience the 400 km2 of Newfoundland nature than Terra Nova's seven backcountry camping locations. Camp on the coast or venture deeper into the forest. Part of the adventure is getting there, with hiking, paddling, or boat drop-off required to reach your site. For a taste of the backcountry try Southwest Arm, a coastal location just a short walk from your vehicle. All locations have bear poles, and pit privies.
Location descriptions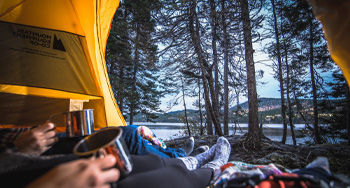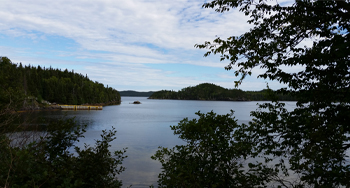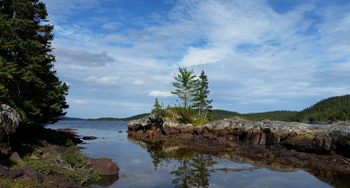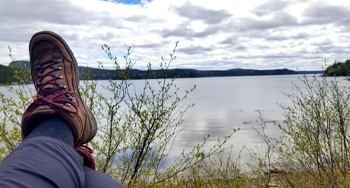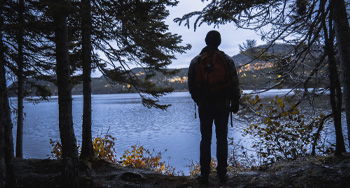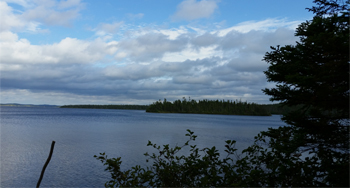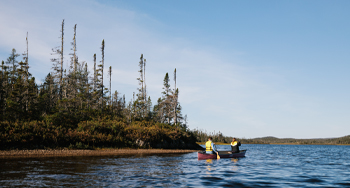 Backcountry locations map
Download the map for backcountry camping locations here.
Obtain your permit in time to reach your destination and set-up camp during daylight hours.
For public safety reasons, backcountry sites and trails may be closed unexpectedly. Please check with the park prior to departure.
Secure any wildlife attractants, such as scented items and/or food items, on bear poles or inside a sealed container (do not store in tent).
All garbage must be packed out from the backcountry. What you pack in, pack out.
Waste water should be disposed of in the pit privies. Do not use soap in brooks, ponds or the ocean.
After your trip, return your permit at one of our facilities so we know you have returned safely.
Additional information
General camping information

Kiosk hours:

Malady Head: Check with the park (709-533-2801)
Newman Sound: Check with the park (709-533-2801)
Visitor Centre:

May 19 to October 9, 2023: 10 am to 4 pm.

After hours registration:

Registration after hours is not available.

Check in time:

Permits must be issued in time to reach destination during daylight hours. Campers must therefore plan enough time to reach their destination before nightfall.
All users MUST register with Parks Canada staff.
Upon arrival at the park, you must pick up your backcountry camping permit at one of our campground kiosks, even if you have a reservation. Permits must be issued with enough time for campers to reach their destination before sunset. Late departures for the backcountry are not permitted. The park reserves the right to forbid a backcountry outing if weather conditions are not suitable, or for any other reason that may jeopardize visitor safety. Users must come prepared for camping in a wilderness setting in variable weather conditions.

Check out time:

Quiet hours:

12 am (midnight) to 7 am.

Maximum length of stay:

Maximum persons per site:

Group size per permit is restricted to one tent and up to four persons.

Maximum camping units per site:

1 tent per site. Camping is restricted to designated sites only.

Fire policy:

Campfires are permitted only at Minchins Cove, South Broad Cove and Southwest Arm, in designated fire pits;
Fires are permitted only in fire places provided by the Park; do not build your own campfire pit or circle
When forest fire danger is high, very high or extreme; open fires are restricted or banned;
Keep fires small, never leave them unattended and fully extinguish fires before leaving;
Where no fire pits are provided, use camp stoves only.

Alcohol Policy:

Alcohol can be consumed on registered sites only.

Pet Policy:

Pets must be leashed at all times. They must not be left unattended.
Pet owners are asked to collect and dispose of any solid pet waste.

Fees

For information regarding camping fees for Terra Nova National Park please see our Fees page.

Contact information

Administration office (8:30 am to 4:30 pm, Monday to Friday, year round)

Newman Sound kiosk (seasonal)

Malady Head kiosk (seasonal)

Visitor Centre (seasonal)

Reservation service:

General park information:

Telephone: 1-888-773-8888

8 am to 8 pm Eastern Time, April to September
10 am to 6 pm Eastern Time, October to March

Emergency contacts:

Parks Canada has 24/7 Emergency Dispatch Centres that receive reports and assist in the management of visitor safety, wildlife, law enforcement or wildfire incidents.

1-877-852-3100
1-709-533-6090
Duty Officer: 1-709-571-0470

Other emergency contacts

RCMP: 1-709-533-2828
Ambulance: 1-709-533-2111
Fire Department: 1-709-533-1111

Terms and definitions

Site-specific

Guests select the specific campsite or accommodation when they make their reservation. All front-country camping reservations made through the Parks Canada Reservation Service (PCRS) are site-specific reservations.

Operating season (nights)

The "operating season" is the nights that the campground is open. Sometimes the campgrounds are open for longer than the period for which they accept reservations. Any dates of the "operating season" outside of the "Reservable Period" are dates that the campground operates on a first come, first served basis only.

Reservable period (nights)

The "reservable period" is the nights for which you can make a camping or accommodation reservation. Note that many campgrounds may be open longer than this period, and operate outside of these dates on a first-come, first-served basis.

Kiosk

The administration/entrance booth of a particular campground, this is where you "check-in" and register your arrival.

Vehicle

Car, truck, motorcycle, truck-camper, motorhome, or recreational vehicle. A motor home pulling another vehicle may count as two vehicles.

Camping unit

Tent, tent-trailer, truck-camper, trailer, 5th wheel, motorhome or recreational vehicle.

Serviced site

Refers to a campsite offering either electrical, water, and/or sewer hook-ups or any combination of these services directly on the campsite. Fully-serviced sites offer electrical, potable water, and sewer hook-ups. "Unserviced" sites do not offer any of these hook-ups.

The terms "serviced" and "unserviced" refer to the individual campsites; they do not refer to the washroom facilities or other amenities available at the campground.

Drive-through site

Campsite where the driver does not have to reverse their vehicle to exit (there is a separate entrance and exit to the individual campsite). Ideal for larger vehicles and trailers.

Walk-in site

Campsite which requires some degree of walking to access the site, and therefore requires a tent. Vehicle will be parked a short distance away.

Overflow site

Overflow campsites vary from park to park, and may range from a paved area to park a camping unit (not generally suitable for tents) to a more traditional, grassy site. They are unserviced and are not reservable.

Accessible site

A campsite which is accessible to guests with limited mobility.

Firepit

A designated structure for campfires located on a campsite. Check availability, as not all campsites offer a fire pit. In some parks, a fire permit is required to have a fire.

In some parks, only communal firepits are available, and access is shared with other guests.

Fire permit

In some campgrounds, guests will require a valid fire permit to have a campfire. A fire permit may include firewood. Please refer to the 'Fire policy' section of the QRT for individual campground policies.

Firewood

In some campgrounds firewood is sold by the bundle, whereas in others a fire permit may give the holder access to the campground wood pile. Please refer to the 'Fire policy' section of the QRT for individual campground policies.

First-come, first-served site

Campsites that are available on a first come, first served basis only. These sites are only available to guests who are physically located at the campground. These sites cannot be registered over the telephone or on-line. These campsites may be available for only 1 night or for multiple nights depending on availability.

Shoulder season

Shoulder season refers to the season before and after the peak season. While many campgrounds remain open outside of their peak season, the services offered during this period may be limited (please check with the park for more details).

Entrance pass

A valid National Park Entrance Pass is required for all visitors to National Parks that have entry fees.

Daily entrance pass

A daily entrance pass permits visitor's unlimited entry to the specified park on a per day basis for the period of time indicated.

Annual/Seasonal entrance pass

An annual or seasonal entrance pass permits visitor's unlimited entry to the specified park for the period of time indicated.

Parks Canada Discovery pass

The Parks Canada Discovery Pass permits visitors unlimited entry to the participating Parks Canada national parks and national historic sites across Canada, for a period of 12 months.

---