Summer activities
Mountain safety
The Canadian Rockies and Selkirk Mountains consist of serious mountain terrain where a number of natural hazards exist. In the summertime, rockfall is one of the biggest hazards you'll encounter, particularly in the Rockies. But, even in summertime, avalanche hazard can threaten your chosen outing. The most important piece of equipment you'll ever take into the mountains with you is your brain.
The Mountain National Parks are a mountaineer's smorgasbord with hundreds of peaks and countless routes.
In the Mountain National Parks, there are a number of excellent sport climbing crags with routes ranging in difficulty.
There are more good scrambling peaks in the Mountain National Parks than you can shake a ski pole at.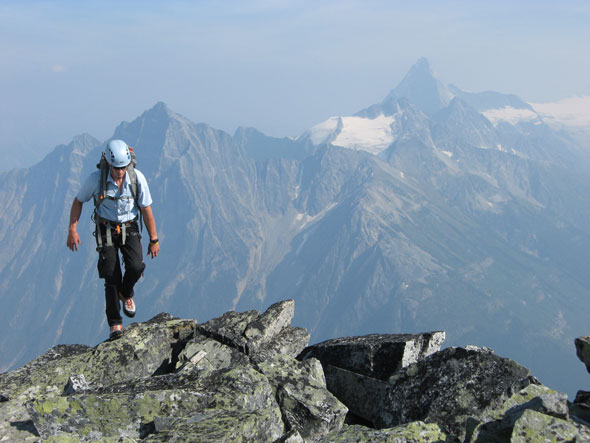 The Canadian Rockies are made up almost entirely of sedimentary rock including limestones and dolomites, shales and silicas (including quartzite). The characteristics vary widely from the very worst (we're not joking) to some fine rock, depending on the formations (the layers) encountered. By comparison, the predominately quartzite rock in Glacier National Park is blocky, solid and fun to climb on.
In the Selkirks of Glacier National Park, the deep winter snowpack usually lingers until June, and the snow slopes and glaciers above 2000 metres (6560 feet) are not usually firm enough to facilitate easy travel until early July. In the Rockies, rock climbing season can begin as early as May, while alpine peaks of 2750 metres (9000 feet) and higher only begin to come into reasonable summer condition in late June and early July.
There's a saying in the mountains – if you don't like the weather, wait five minutes. Make sure you are prepared for both sun and snow - and everything in between:
Always check the local weather forecast.
Dress in layers. This allows you to adjust your body temperature as the weather changes.
Always pack an extra warm layer just in case, including a hat and gloves.
Pack clothing that will protect you from wind, rain, cold and snow.
Wear sunscreen and sunglasses - harmful UV rays are extra damaging when reflected off the snow at higher elevations.
Follow these tips to ensure a safe trip:
Research your trip to be sure you have the skills and experience it will demand of you.
Always take a map, food, water (or a bottle to fill en route), and extra clothing.
Boil and filter untreated water before using, carry purification drops or bring water from a treated source.
Beware of all natural hazards such as mountain lakes and streams.
Beware of all wildlife hazards.
Spend some time with your equipment before leaving on your trip - learn how it works, make sure it fits, and run through the checklist before leaving home.
Don't go anywhere without your group gear - first aid kit, bivouac sac or small tarp, map, compass and repair kit.
Bring your GPS, cell, or satellite phone (record emergency numbers), but never expect to count on them 100 percent of the time.
Tell someone where you plan to go and when you plan to return.
Climbers are permitted to bivouac on long routes or otherwise where necessary to safely complete a climb. Some restrictions apply. A backcountry use permit is required and camping regulations and specific guidelines are explained at the Visitor Information Centre of the Mountain National Park you are visiting.
Comprehensive rescue services are provided by Visitor Safety Program Specialists for visitors to the Mountain National Parks. Climbers, however, should plan on being self-reliant and remember that rescue assistance may not always be immediately available, especially during stormy weather. Rescue costs are normally recovered from the park user fees paid by visitors upon entry to the park. Visitor Safety Program Specialists can answer many mountaineering inquires and provide information on current conditions, when they are available.