Exhibits
Riding Mountain National Park
The new exhibits at the Visitor Centre feature interactive experiences in the comfort of the familiar historic building. Through the theme of Home, visitors can connect with magnificent wildlife, fascinating ecological projects, inspiring Indigenous history and the powerful traditional Anishinabe culture.
The new panels welcome you to the park, walk you through the seasons, teach you about species at risk, and share the stories of Anishinabe. Enjoy digital displays and an interactive bison puzzle!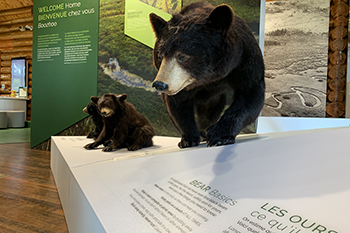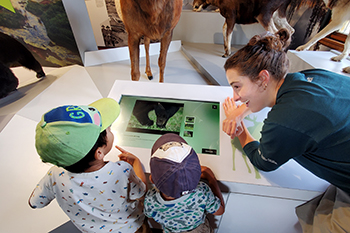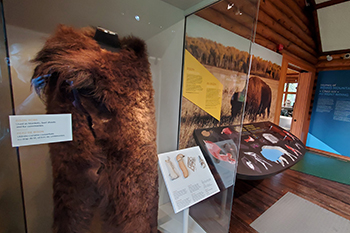 Riding Mountain is home.
It is home to a staggering diversity of living things— of windswept parklands and deep, silent forests, of secretive wolf packs, of orchids and lilies, of lakes and wetlands singing with life.
It is home to the Anishinabe, who have raised their families, cared for the land, and hunted and fished here for generations, and who, despite being made unwelcome here in the past, are an integral part of the life of the Park.
Riding Mountain is home to residents and neighbours, who are caretakers for the park and protectors of its surrounding lands.
Riding Mountain is home to a sprawling, wild, protected environment, with living systems remarkable in their resilience and productivity. It is a land of rugged escarpments and gentle hills; of remote backcountry trails and campsites; of star-filled skies and dancing northern lights; of crisp autumn mornings and vivid summer sunsets, of sparkling winter hoarfrost over well-loved ski trails.
And it is the home of Wasagaming townsite, a hub of heritage architecture and family traditions, of days spent swimming, walking and sunning around Clear Lake; a place of ice cream and barbecues and time spent relaxing under the summer sun with family and friends.