Infrastructure program
Riding Mountain National Park
What to know before you visit
Parks Canada is investing an unprecedented $3 billion dollars over 5 years to support infrastructure work to heritage, visitor, waterway and highway assets located within national historic sites, national parks, and national marine conservation areas across Canada. These investments represent the largest federal infrastructure plan in the history of Parks Canada.
Investments in visitor infrastructure – such as trails, visitor centres and campgrounds, as well as highways, parkways and bridges – will ensure the quality and reliability of visitor facilities and continue to allow Canadians to connect with nature.
When visiting or driving through Riding Mountain National Park on Highway 10, you may encounter one or more construction zones while we complete this important work. Please plan ahead before you travel to avoid inconvenience.
---
Projects Update – Spring and Summer 2022
Visitor Centre Renewal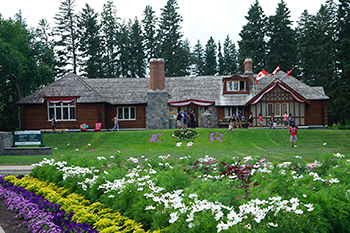 This premier park facility has not seen any major changes for over 25 years. An architectural and engineering firm was hired to provide detailed design and construction administration services for the renewal of the Visitor Centre and surrounding landscape. A design firm was also hired to provide turn-key exhibit services.
For more information on the new changes, visit: Visitor Centre
---
Highway 10 Rehabilitation and Paving Project: Seal Coating took place on Highway 10 from the park's south entrance for 25 kilometres northbound. The seal coating is a preservation intended to extend the life of the recently paved surface.
Roadway Microsurfacing was completed in 2020 in the following areas:
Highway 10 and TaWaPit Drive to Balsam;
Highway 10 and Columbine to Wasagaming Drive,
Highway 10 and Wasagaming to the Mooswa intersection
This road work is a treatment to prolong the life of the asphalt.
---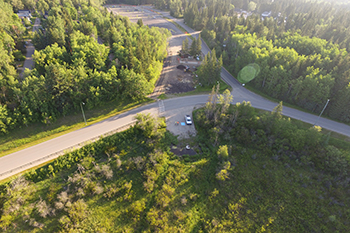 Wasagaming Stormwater Management:
Phase one work was completed on Wasagaming Drive and Boat Cove Road in 2018. This work was done to increase the capacity of the townsite's stormwater system, as well as to ensure that stormwater originating within the townsite is properly filtered to remove pollutants. Phase two focuses on stormwater retention and reduction within two small parking lots. Stormwater Retention work adjacent to the small parking lot beside the Visitor Centre and the parking lot on the corner of Columbine and TaWaPit began in 2019 and was completed in 2021.
---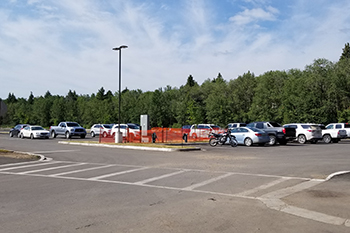 Townsite Parking, Street, and Trail Paving Project:
Construction in the main parking lot in Wasagaming was completed in June of 2019. There are 275 delineated parking spots available and visitors can safely head to the beach or townsite on paved sidewalks equipped with way finding signs and a new information node.
Of special interest are three electric vehicle charging stations, two Tesla chargers and one universal charger. For visitors who own electric cars, you can now charge your car in the park!
Paving was completed in 2020 in the following areas: the parking lot beside the Visitor Centre, the Ominnik Marsh trailhead, and the emergency access road into the Clear Lake Cabin Area. The emergency road is not designed for daily use, as such it will be closed with removable bollards.
The final stage of this project began in Fall 2021 with the construction of a connector path to tie into the Ominnik trail system.
---
Conservation of Heritage Buildings:
Three Heritage Buildings in the park have received new foundations. The Whirlpool North Warden Residence at the East Gate National Historic Site, the former Doctor's Residence at 140 TaWaPit, and 154 Columbine. The Doctor's Residence and Tennis Clubhouse are both undergoing interior renovation projects, with completion expected in 2022.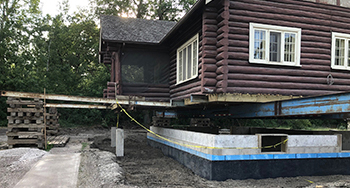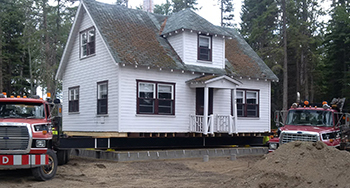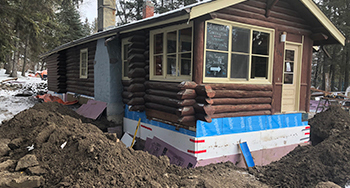 ---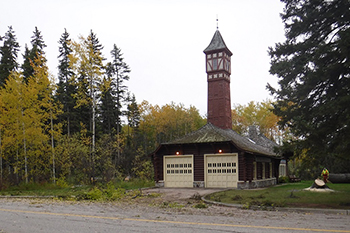 ---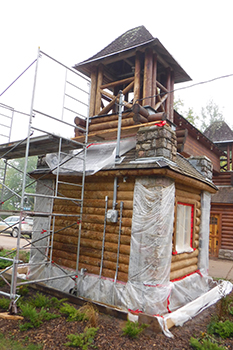 Log restoration work at the East Gate NHS and 154 Columbine are ongoing.
---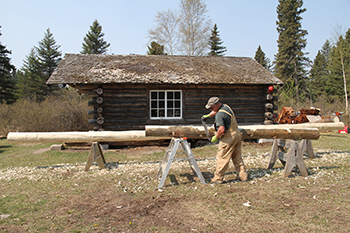 Restoration work at Grey Owl's Cabin took place in the spring of 2019, which involved replacing the concrete foundation pads and rotten bottom logs. Visit our website for more information on the restoration work happening at Grey Owl's Cabin.
---
During the fall and winter of 2018, both the Bandstand and Tennis Clubhouse were re-shingled. In addition, all of the Tennis Clubhouse windows were removed and taken to the Restoration Workshop at Lower Fort Garry for repair, re-puttying and painting. The Anishinabe Sharing Lodge (former fire hall) was reshingled in 2020.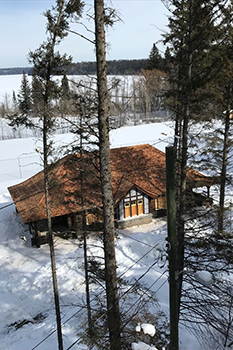 ---
Highway 19 Rehabilitation Project:
This project will help improve the safety and reliability of road infrastructure, improve ditches and drainage, and offer safe vehicle access through the East Gate and eastern corridor of the park on Highway 19. As necessary, the road will be re-graded/widened and culverts added or replaced. Work began in late June 2020 and will continue this year.

For up-to-date information on road closures, construction delays and infrastructure work, please visit us at: Important Bulletins
---
Road report and other important information