Hang gliding and paragliding
Yoho National Park
Parks Canada has guidelines for non-motorized hang gliding and paragliding in Yoho National Park. Under the guidelines, non-motorized hang gliding and paragliding are permitted on a trial basis, as of October 29, 2021. Familiarize yourself with the guidelines before flying in Yoho National Park.
Guidelines | Areas where launching and landing are prohibited | Map | Safety | Emergency
---
Guidelines
Pilots must be members of the Hang Gliding and Paragliding Association of Canada (HPAC) to fly in the park, and must carry proof of membership when flying in the park.
Pilots are expected to record their flights on the XContest website. HPAC will provide data on flights in the park to Parks Canada annually.
Motorized or towed launches are not permitted.
Commercial activities or special events are not permitted.
Plan your flight beforehand. Some areas of the park are prohibited to launching and landing.
Pilots must use designated trails to access launch sites.
Pilots must obtain permission from the lessee or licensee before landing on a leasehold or license of occupation (e.g. commercial lodges).
Pilots should use discretion when launching or landing in public areas, and avoid landing in areas that are crowded.
Emergency landings are permitted in accordance with Transport Canada and Parks Canada regulations. Emergency landings must be reported to Parks Canada Dispatch (403-762-1470) and to HPAC, as per the established HPAC protocol.
Pilots must strive to avoid disturbing medium and large wildlife species. If medium and large wildlife is observed, pilots must fly away from the area immediately. If it is not possible to leave the area, pilots should maintain a distance of at least 500 m away from wildlife.
Raptors and other birds have been known to fly with paragliders. Pilots must not interfere with or chase airborne birds.
Pilots may use a helmet camera or other mounted camera during flight. Taking off or landing of a drone for recreational use is prohibited within Yoho National Park. Please do not fly your drone in the park.
For more information, review the guidelines (PDF 279 KB).
---
Areas where launching and landing are prohibited
Parks Canada has identified areas within the parks that are prohibited to launching and landing by hang gliders and paragliders due to sensitive ecological terrain, sensitive wildlife areas, and/or high visitation.
Launching and landing is not permitted in the following areas in Yoho National Park:
Village of Field
Campgrounds and day-use areas
Active aggregate pits, operation centres and helipads
Lake O'Hara area
Sherbrooke Lake area (important mountain goat habitat)
Zone I: Special Preservation Areas

Ice River Igneous Complex
Burgess Shale fossil sites
Ottertail Flats
Leanchoil Marsh

Environmentally Sensitive Sites:

Emerald Lake Vegetation
Wapta Lake Marsh
---
Map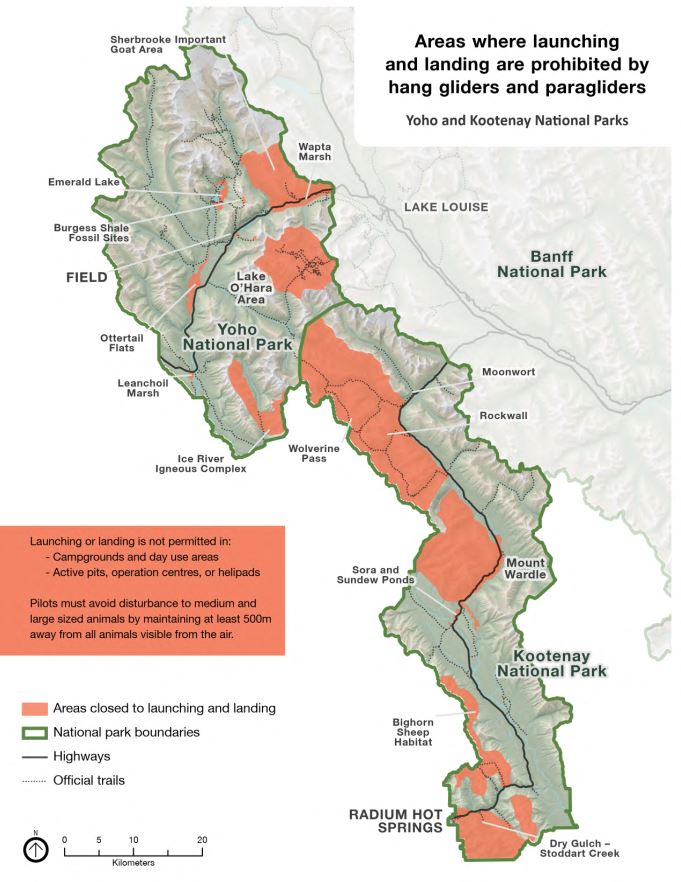 (PDF 223 KB) (KMZ 341 KB)
---
Safety
Remember, you are responsible for your own safety.
Always wear proper safety gear.
Know your equipment.
Plan your flight beforehand.
Be aware of the weather forecast.
Tell someone where you are going and when you are expected back.
For more safety information, visit HPAC.

---
Emergency
In case of an emergency, call 911 (will not work on a satellite phone) or call Parks Canada Dispatch at 403-762-4506. Cell phone reception is unreliable in Yoho and Kootenay national parks.