Dogs and pets
Pacific Rim National Park Reserve
Long Beach area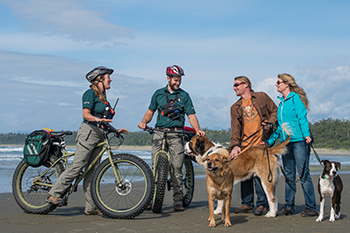 Dogs are permitted in the Long Beach area of Pacific Rim National Park Reserve, with the exception of Combers Beach from April 1 to October 1. In areas where dogs are permitted, they must be on a leash at all times. This includes beaches, trails, parking lots and in the water.
This regulation is actively enforced under Canada's National Parks Act, with fines and further penalties if needed. It is also illegal to harass wildlife, therefore a visitor can be charged if their pet chases a wild animal.

Please clean up after your pet and dispose of the waste in the garbage cans provided. Picking up after your pets shows respect to other visitors, their pets and the environment.
Combers Beach - Combers Beach (please see map below) is closed to dogs from April 1 to October 1 inclusively. Dogs are not permitted between Sandhill Creek and Green Point Rocks, including Combers Beach Trail and the boardwalk access to Combers Beach from Green Point Campground, unless they are service pets, during this time.
In light of our increasing understanding of the importance of the Long Beach area to migratory shorebirds, this limited measure is being taken to decrease disturbance of shorebirds during a critical time of their annual cycle – migration.
The area will be patrolled by Parks Canada staff and Law Enforcement Officers. If you see a dog in this area, please help protect local wildlife by sharing information with your fellow visitors. You can also alert Parks Canada by calling

West Coast Trail and Broken Group Islands
Dogs are not permitted on the West Coast Trail or the Broken group Islands, unless they are service pets.
---
Dogs on leash create a culture of conservation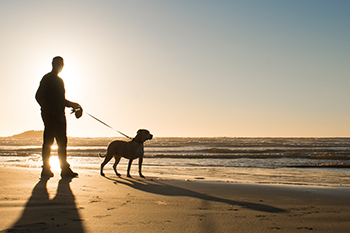 The beaches and trails of Pacific Rim National Park Reserve are important habitat for wildlife, including wolves and shorebirds, whose very survival is impacted by dogs off leash.
As Pacific Rim National Park Reserve welcomes more than one million visitors each year, we urge you to follow our regulations and set an example for all other dog owners by keeping your pet on leash at all times and observing the seasonal closure of Combers Beach.
It may not seem like a significant decision to let your dog roam along one of the national park reserve's beaches or forested trails off leash, but with more than 100,000 dog visits taking place in the national park reserve each year, each individual dog owner's decisions have a cumulative effect on the health of the national park reserve, especially on wildlife. Here are a few reasons why:
Shorebirds
We are fortunate to protect an important junction on the Pacific Flyway – a coastal migratory route annually followed by millions of shorebirds and other birds. Our understanding of the ecological significance of the Long Beach area is increasing. The most recent estimates suggest that over 500,000 of more than 30 species of shorebirds make landfall on local beaches and mudflats twice every year. Shorebirds rest and feed on the beaches in Pacific Rim National Park Reserve replenishing their fat reserves before continuing on their journey. Dogs off leash often follow their instincts and chase shorebirds, causing the birds to expend energy reserves they should actually be building. The same impact is produced by visitors carelessly walking, cycling or running through flocks of shorebirds roosting or feeding on the beach. By keeping your dog on leash, observing the seasonal Combers Beach closure, and staying at least 25 meters (5 car lengths) away from shorebirds you are preventing unnecessary stress and allowing the shorebirds to do what they need to survive.
Dogs Off Leash at Pacific Rim National Park Reserve
Wolves
Wolves make their home here on the coast and as national park reserve visitors, we enter their habitat. Wolves have a natural fear of people, but see smaller mammals as food. When wolves see dogs off leash, they may approach or even attack them. This not only puts your pet at risk, but causes wolves to lose their natural wariness of humans, and they begin to think of them as a source food. A habituated wolf may eventually need to be killed as a last resort to protect public safety. To avoid this very unfortunate outcome, keep your dog on leash at all times and follow the other dog-related restrictions. It is also important to know what to do when you have an
encounter with wolves, bears and cougars
.
Other wildlife
There are other wild animals that live in the national park reserve, such as bears, cougars and smaller creatures like pine martens, river otters and birds. They all need space and consideration. Keeping dogs on leash at all times is the best way to prevent pets from disturbing and possibly aggravating the wild animals that make Pacific Rim National Park Reserve their home.
Other visitors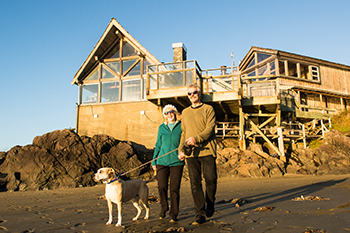 Not everyone is a dog lover. Some visitors may even have very real apprehensions around dogs. Having your dog on a leash ensures they do not approach other visitors without invitation and makes for a much more enjoyable experience for all. On-leash pets and their owners can also experience stress when they encounter a dog that is off leash. Even dog lovers appreciate visitors' effort to protect wildlife by keeping their dogs on leash.
We are all escaping the busy world by coming to the national park reserve – let's ensure we aren't creating stress for wildlife and other visitors who share this protected space with us.
Keeping your dog on leash shows you care about the health of the national park reserve and respect other visitors.