Akamina Parkway
Waterton Lakes National Park
The Akamina Parkway is a winding mountain road which starts in the Waterton townsite and runs 16 km along the Cameron Valley, ending at Cameron Lake. Along the way, stop at the First Oil Well in Western Canada National Historic Site.
Crandell Lake, Lineham Falls, Rowe Lakes, Akamina Pass, Cameron Lakeshore and Carthew-Alderson (Summit Lake) trails all are located along this road.
Cameron Lake has a day use area with interpretive exhibits. A pleasant trail follows the western shore of the lake for 1.6 kilometres. The washrooms at the Cameron Lake Day Use Area are open and cleaned regularly.
The Akamina Parkway remains open year round and provides access to many locations and activities in all seasons.
Map of parking areas and trailheads
Points of interest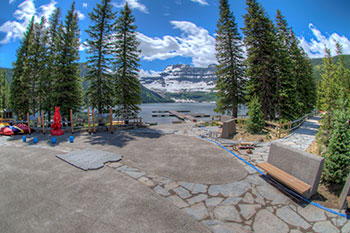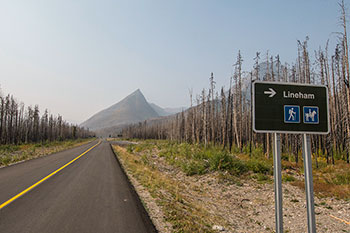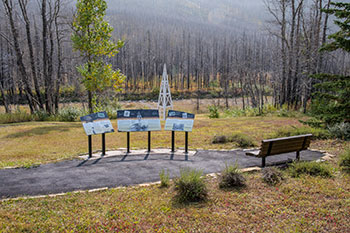 Driving safety
The speed limit along the Akamina Parkway is 50 km/h. It is a narrow mountain road with no shoulder. Please drive with caution and be mindful of pedestrians, cyclists and wildlife. When driving or using trails, obey all posted speed limits, signs and closures.
The Akamina Parkway may be congested, especially during weekends. Consider accessing the parkway during weekdays instead of weekends, and early in the morning or later in the day to avoid congestion.
Cycling
Cycling is allowed on the Akamina Parkway. Cyclists are asked to travel with caution and be mindful of any vehicle traffic.
Cycling is permitted on the Akamina Pass trail. This is a short, steep trail is best suited to more experienced cyclists. It climbs to the Alberta-British Columbia boundary then continues into Akamina-Kishinena Provincial Park in B.C. The trailhead is located at the 14.3 km point along the Akamina Parkway.
Wildlife viewing
Wildlife may be present along the Akamina Parkway. You might see bighorn sheep, moose, mule deer, red squirrels, snowshoe hares and marten. If you see wildlife along the road, slow down, stay in your vehicle and move on.
Do not feed or approach wildlife, and stay at least 30 m (3 buses) away from large animals such as deer, moose and elk, and 100 m (10 buses) away from bears, wolves, coyotes and cougars. Pets must be on a leash at all times.
Horseback riding
Parks Canada is monitoring horse use on trails, and is now able to restore access to some trails that allowed horseback riding prior to the 2017 Kenow Wildfire. Parks Canada continues to monitor the ecological regrowth and assess the potential impact of horse use on wildfire-affected areas.
Information on where horse users can recreate in the park
Akamina Parkway in winter
In winter, Akamina Parkway is open to vehicles up to Little Prairie Day Use Area, providing access to one of the park's most popular winter recreation areas, Cameron Lake.
Parks Canada will set cross-country skiing tracks between Little Prairie and Cameron Lake as conditions allow. Snowshoeing and ski touring are also popular activities in this area. This portion of the parkway should be treated as a backcountry terrain.
Primitive toilets are available at Little Prairie Day Use Area and Cameron Lake. Visitors should bring their own toilet tissue and hand sanitizer as these facilities are maintained infrequently.
Akamina Parkway itself will be plowed as necessary and morning closures are expected, to give snowplows the space to operate safely. Parking at the Little Prairie Day Use Area has been modified to provide a safer and improved winter experience.
511 Alberta
is the best place to check current parkway status.
Akamina Parkway rehabilitation projects
The Akamina Parkway and surrounding Cameron Valley sustained significant damage in the Kenow Wildfire of September 2017.
Parks Canada has advanced road work and mitigated wildfire-related hazards on the Akamina Parkway. Completed work includes paving, new guardrails, signs, and trailhead enhancement in addition to rock scaling, hazard tree and hydrology work completed in previous years.
By the numbers
The Akamina Parkway runs 16 km from Waterton townsite to Cameron Lake.
Construction began on the lower portion of the Akamina Parkway (from townsite to Crandell Lake trailhead) in 1921. The completed road to Cameron Lake opened in 1927.
Cameron Lake, at the continental divide, receives an average of 152 cm of precipitation annually, while further east at the park gate receives only 76 cm!
The elevation of Cameron Lake is 1,660 m (5,446 ft).
Cameron Lake is in the extreme south-west corner of Alberta. It's a place where 3 parks (Waterton Lakes National Park, Glacier National Park and Akamina-Kishinena Provincial Park), 2 provinces (Alberta and British Columbia) and 2 countries (Canada and the United States) meet.
Aka-meen-a or Aka-mine-a?
How to pronounce "Akamina" is a question we get a lot at our visitor centre and on our social media channels. We have never determined for sure the origin of the name, so it is often pronounced both ways – we think.