Fryatt Trail
Jasper National Park
Dramatic peaks and a picturesque hanging valley draw backpackers to this trail. The headwall accessing the hanging valley and the ACC hut is a very steep and strenuous ascent. Two campgrounds and an Alpine Club of Canada hut along the way provide options for itineraries. One popular choice is to make a base camp at Brussels Campground (#35) to explore the upper valley without a backpack. Lower Fryatt Campground (#34) is a good choice for an early or late season trip and can be travelled by mountain bike.
Planning considerations
Maintained trail: high priority
22 km one way
Trail #122: 2-3 days
Bikes permitted to Lower Fryatt campground
Dogs permitted
No horses
---
From June 9 to September 30: Geraldine Road is open to public traffic subject to the following restrictions:
During working hours (typically 07:00 to 19:00), travel on Geraldine Road by vehicle only. Drive with care. Follow traffic control measures and all posted speed limits and warnings. Expect delays of up to 15 minutes. Work schedules are subject to change without notice.
During non-working hours, the road is open to all users.
From October 1 to June 8: Geraldine Road is closed to all public traffic.
Use the winter route from Athabasca Falls for access to the Fryatt Valley.
Notice of restriction: Travel on Geraldine Road during construction of the Caribou Conservation Breeding Centre
The first 12 km of this trail to Lower Fryatt Campground (#34) is along an old fire road. Beyond Lower Fryatt Campground, the trail climbs steadily through the forest for another 4 km before reaching an open U-shaped valley. The views from Brussels Campground (#35) are stunning. Two kilometres past Brussels, the trail follows the shore of Fryatt Lake to the base of the headwall, at 21.1 km. From here, ascend the headwall, a steep 200 m climb, to the upper valley and the Sydney Vallance Hut (Alpine Club of Canada).
The Alpine Club of Canada (ACC) manages the beautiful Sydney Vallance hut (capacity 12) at the top of the headwall at km 22. Visit alpineclubofcanada.ca for information on booking the hut.
The headwall is very steep and can be dangerous if you veer off the trail. Follow the yellow markers and backtrack if you lose the trail.
The Headwall Campground has been removed as it was in an avalanche path. Camping is no longer permitted here.
Experienced boaters with proper equipment can cross the Athabasca River just south of the Goats and Glaciers Viewpoint on the Icefields Parkway and cut 7 km from the hike. Note that the Athabasca River is fast and very cold (4-6°C). The crossing requires experience in swift water paddling, especially when water levels are high. The crossing is not recommended for novice paddlers.
If travelling during winter months, be sure to check avalanche conditions, have the necessary knowledge, experience and avalanche safety gear. Consider hiring a guide.
Porcupines may be present near campgrounds. They can be attracted to your equipment or anything with a salt content.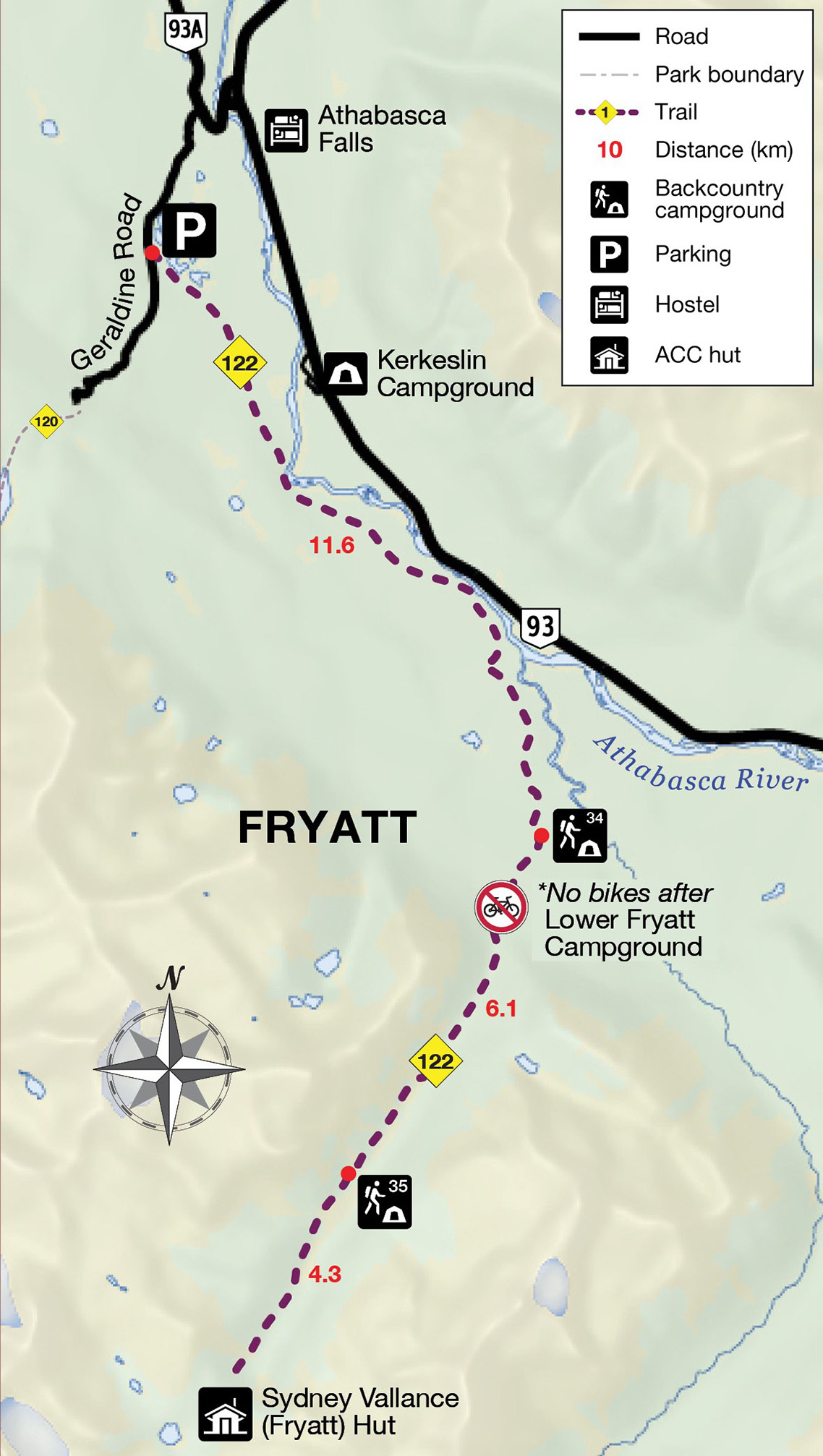 ---
Elevation profile

Text version

The trailhead is at 1220 m.
The trail is mainly flat for the 11.6 km to Lower Fryatt Campground (1280 m) except for an ascent just before the campground.
There is a steady climb for 6.1 km to Brussels Campground (1715 m).
No significant elevation changes for 3.4 km then a very steep climb for 800 m to just before the Sydney Vallance Hut.
The trails levels for the 100m to the Hut.
Campground information
Campground
Elevation (m)
Description
# of sites
Toilet type
Food storage
UTM
Lower Fryatt
#34


1280 m
This campground is located next to Fryatt Creek and a bridge crossing into the valley proper between mounts Christie and Fryatt. Bike access ends here.
6
Throne
Lockers
11U 444505
5825366
Brussels
#35


1715 m
A somewhat forested campground, which still has great views of the surrounding mountains.
8
Barrel
Lockers
11U 441868
5820614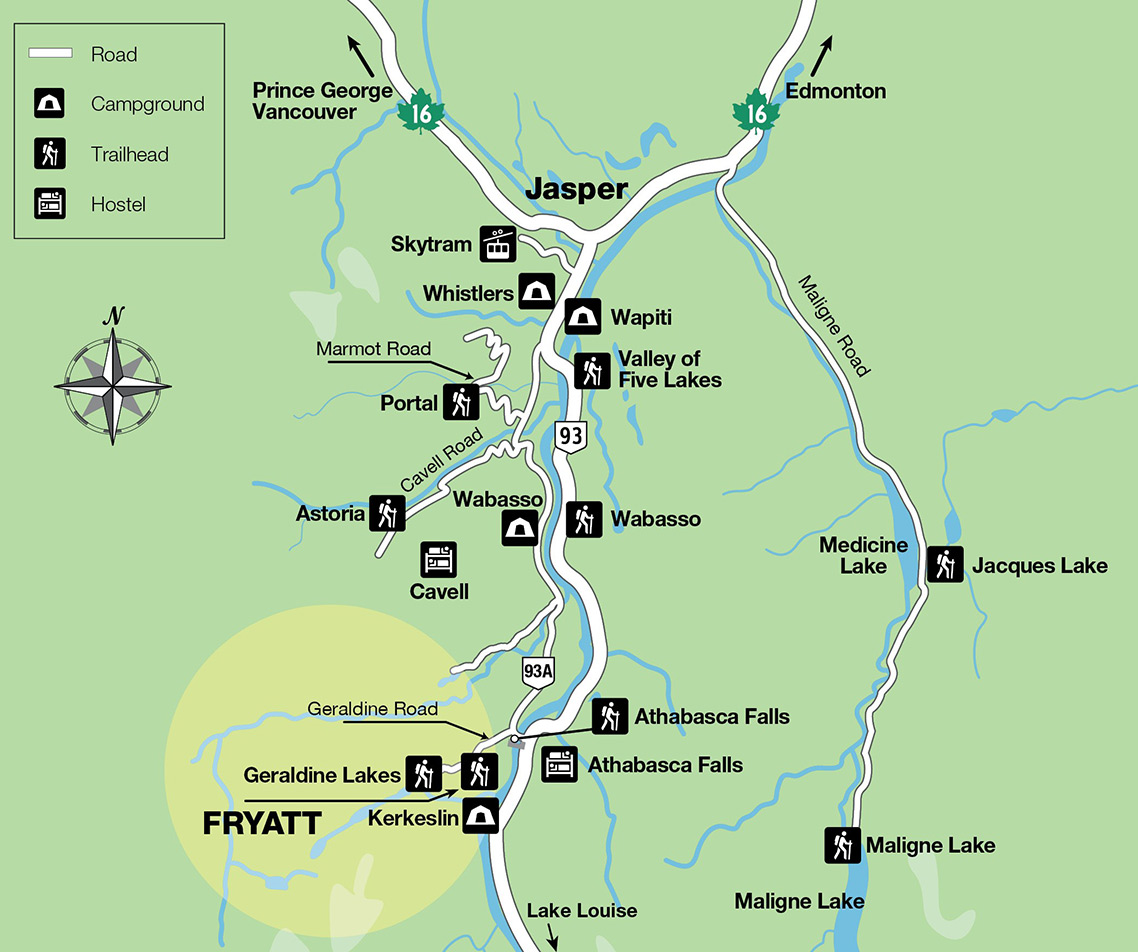 From Jasper: 31 km
Take the Icefields Parkway (Highway 93) towards Lake Louise.
At Athabasca Falls (30 km south of Jasper) turn right onto Wabasso Road (93A). Continue for 1 km.
Turn left onto unpaved Geraldine Road and continue for 2 km
From Banff: 255 km
Follow the Icefields Parkway north towards Jasper.
Turn left at the junction for Highway 93A and Athabasca Falls, 200 km north of Lake Louise.
Turn left onto unpaved Geraldine Road and continue for 2 km
Note: Geraldine Road is a seasonal access road that is open from mid-June to late September. Check 511.alberta.ca to confirm if the road is open.
This is a rough gravel road. High-clearance vehicles are recommended. No trailers or RVs are permitted.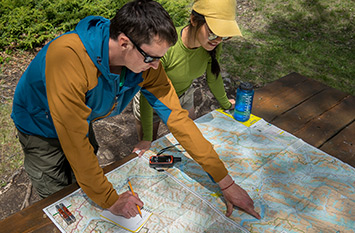 Safety is your responsibility
Refer to the Jasper National Park Backcountry Planning Guide:
descriptions of trail types and campground facilities;
equipment checklists;
responsible camping practices;
safety information.
Before heading out, check trail, weather and road conditions at: parks.canada.ca/jaspertrails.
Maps
Maps

| NTS | National Geographic | Gem Trek |
| --- | --- | --- |
| Athabasca Falls 83C/12 | Jasper South | Jasper and Maligne Lake |
Permits
A backcountry camping permit is mandatory for all overnight trips and can be obtained online at reservation.pc.gc.ca or by calling 1-877-737-3783.