Skating on ponds, lakes, and rivers
Jasper National Park
What could be more Canadian than pond skating? Both Pyramid and Mildred lakes are cleared off each winter and offer free-skating ovals along with rinks for a game of shinny hockey. Once in a while, temperatures drop before the snow falls, leaving many ponds and lakes covered in a thick layer of transparent ice. Skating in these conditions is as close as a person can get to flying.
Skating on natural ice in the Rockies can be a wonderful experience, but it also involves some serious risks. Here are some things you should know.
Please be sure to arm yourself with safety information before heading out, as Parks Canada does not monitor the ice. If you are not sure if the ice is thick enough, stay off it
Never skate alone
Don't skate in the dark
---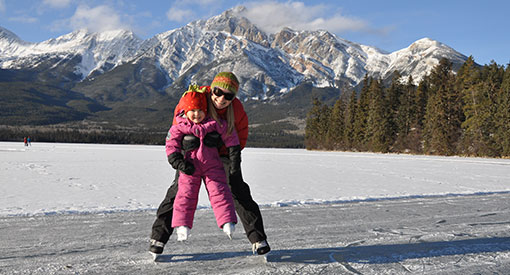 Groomed by Pyramid Lake Resort; enjoy skating on iconic Pyramid Lake with exquisite Pyramid Mountain as your backdrop.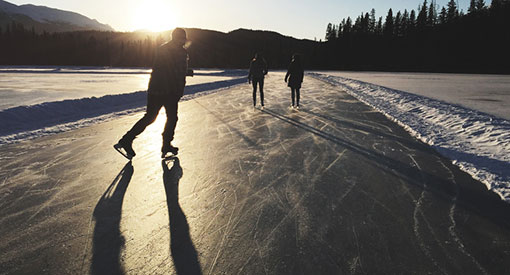 Bask in spectacular mountain views as you glide along the Jasper Park Lodge groomed skating oval at Mildred Lake.
---
Ice thickness
The Red Cross recommends an ice thickness of at least 6" for safety; the thicker the ice, the better. It's up to YOU to assess the thickness of the ice. The best way to do this is with a drill, and to check in several locations. We do not recommend skating at night or on snow-covered ice because you cannot see how thick the ice is. Water vapour above the ice, or creaking and cracking noises, indicate weak ice.
The thickness of natural ice varies from place to place. Ice forms over shallow, still water first and is thinner over areas where the water is flowing. One pond may be in good condition while another one nearby is not safe. And ice thickness can vary from place to place on any pond or lake. Be especially cautious around inflow and outflow areas. When the weather is warm, the thickness of natural ice can change from day to day.
---
You are on your own, so be prepared
Your chances of rescuing yourself if you fall into deep or flowing water are not good. It can be extremely difficult to crawl back out of the water onto fragile ice without proper assistance, and hypothermia will weaken you very quickly. For this reason, skating alone is not recommended. Because of the time it will take for rescue assistance to reach you, proper self-rescue is your best bet.
If someone falls in, that means the ice in that area is dangerous. If you hope to rescue someone who has fallen in, stay away from the thin ice yourself.
The best way to help the person is to extend a long pole or throw them a line. Carry a hockey stick, a piece of rope, or, even better, an emergency throw bag with you. Throw bags are easy to make with a length of floating rope, a nylon stuff sack, and a piece of closed-cell foam for flotation. Put the foam in the bottom of the stuff sack, tie one end of the rope to the stuff sack, then stuff the sack with the rope, leaving the other end out. Hold onto the free end of the rope and throw the bag to the victim.
You can carry a cell phone to report emergencies (call 911 immediately), but don't rely on this alone. Cell phones do not work everywhere in the park and emergency response teams from Jasper may not arrive in time. Make sure you know and can report your exact location.
If you are going to a remote area, tell someone you trust exactly where your group is going and when you plan to return, and any other pertinent information that will assist search and rescue personnel if you do not return as planned.
---
Public indoor skating is available at the Jasper Activity Centre. Call 780-852-3381 for information about times and cost. www.jasper-alberta.com