oTENTik
Elk Island National Park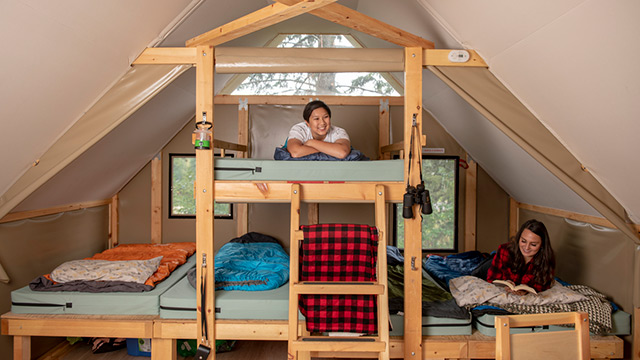 Interested in camping but craving the comfort of a bed? Arrive to find camp already set-up at one of the five oTENTik tents in the Astotin Lake Campground. oTENTiks offer an easy and relaxing way to experience the great outdoors.
The oTENTik is an A-frame tent and cabin in one that offers a unique blend of homey comfort and a taste of outdoor adventure. It's a unique concept for visitors to enjoy camping with the comfort of a bed and a campsite already set up and ready to go.
Features:
What's inside:

Sleeping area for up to six people - one double bed, two singles, and a bunk bed
A table and four chairs
A battery-powered lantern
An electric baseboard heater (takes the chill off, but does not provide full heat)
A USB charging port
Fire extinguisher, smoke detector and carbon monoxide detector.
Broom and dustpan

*There is no plumbing or running water in the oTENTiks. Washrooms are located in the campground.
What's at each campsite:

A-Frame tent with front deck
Fire pit
Picnic table and four Adirondack chairs
Propane BBQ
Parking for a maximum of one vehicle
Nearby:

Shared kitchen shelter
Accessible washroom with showers
Potable water taps
Bundled firewood can be purchased at the Visitor Centre or campground kiosk. Keep all fires within the designated fire pits.
What to bring:

Sleeping bags, blankets and pillows (extra blankets and sleeping bags are recommended when temperature fall to -10° C in May and September)
Food, drinks, and a water container
Cooking equipment, dishes, eating utensils and a cooler (propane BBQs are provided)
Slippers or indoor shoes
Flashlights
Fire-making kit; waterproof matches / lighter
This list is not exhaustive – visit adventuresmart.ca for a list of essential items to bring camping.
oTENTik regulations:

Visitors are expected to practice safe camping and picnicking practices, obey the camping and other national park's regulations including keeping pets on a leash, and keeping food and garbage secure at all times. In addition to the Parks Canada's camping regulations, oTENTik users must follow these additional regulations:

Never prepare food, store food or drinks, or cook inside the oTENTik
Keep oTENTik area clean at all times. Store ALL food, garbage and scented items in a vehicle or a bear proof storage container when not in use
Never smoke or vape tobacco or cannabis within the oTENTik
Keep pets, on leash and under control at all times

Reservations are recommended. Review the campground hours of operation for more information on the operating season dates.
Camping with a group?

oTENTik sites #34 and #41 are ideal for larger groups. These site are side by side and separate from the rest of the campsites!
Wheelchair accessibility?

oTENTik site #9 is wheelchair accessible.
Campground check-in / check-out

Check-in at the Astotin Lake Campground Kiosk upon arrival
Check-in time is 3:00 p.m.
Check-out time is 11:00 a.m.

If arriving after the campground kiosk is closed, please contact the Elk Island National Park Visitor Centre during regular business hours to make arrangements for late arrival.
Reserve by phone or online:
Call 1-877-RESERVE (1-877-737-3783). Available from 8 a.m. to 6 p.m. local park time
Outside of North America: (519) 826-5391
For more information call the Parks Canada national information line at 1-888-773-8888.
Emergencies:
For incidents involving wildlife call Parks Canada Dispatch 1-877-852-3100. Response times may vary
In case of an emergency dial 911
Hospitals are located in Lamont, Sherwood Park and Fort Saskatchewan. The Lamont Hospital closes at 8:00 pm; after-hours emergencies must be taken to Fort Saskatchewan or Sherwood Park.
It is illegal to feed, entice or disturb any wildlife in a national park. Violators may be charged, be required to appear in court, and could pay fines up to $25 000.
To report offenses call Parks Canada Dispatch: 1-877-852-3100.