Dispose of all garbage
Banff National Park
To protect this special place, we take responsibility for our own food and garbage, even if it feels inconvenient. Leave nothing behind, and dispose of all garbage in a wildlife-proof bin.
Wildlife may eat garbage and begin to seek out other sources of human food. Ensure all garbage, recycling, and food waste (even organic waste, like banana peels and apple cores) are disposed of in a wildlife-proof garbage bin, never on the ground, in a fire pit or in the bed of your truck.
If you see garbage or recycling left outside in the Banff townsite, call Bylaw Services at 403-763-1218. (8am to 6 pm seven days a week). For garbage left outside at day-use areas and other locations in Banff National Park, call Banff Dispatch at 403-762-1470.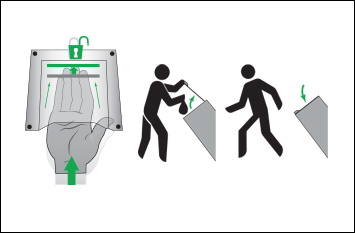 Place your hand inside the handle and push it to the very back to release the latch.
Raise your arm to open the lid. Dispose of garbage.
Lower the lid. Ensure the lid is closed tight before leaving.
Your actions matter! When you leave Banff National Park… leave it wild.
---
It is illegal to feed, entice or disturb any wildlife in a national park. Violators will be charged, be required to appear in court, and could pay fines up to $25 000.
Please report bear, cougar, wolf and coyote sightings and encounters to Banff Dispatch: 403-762-1470
Current wildlife warnings and closures