Partners
Sir George-Étienne Cartier National Historic Site
By working in collaboration with respected organisations that share our values, Parks Canada is able to better deliver its promise to Canadians by continuing to be a world leader in the protection and presentation of Canada's natural and cultural heritage. We believe in sharing leadership and working with our partners to offer unique, inspiring opportunities for Canadians to discover our treasured places and to achieve extraordinary results

We are proud to be formally collaborating with the following partners: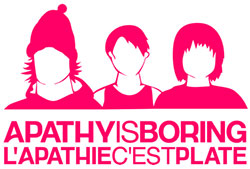 Apathy is boring
Apathy is Boring is a by you for youth, non partisan, charitable organization that uses art and technology to educate youth about democracy. Founded in 2004, Apathy is Boring works to increase youth engagement in Canadian democracy, increase youth voting rates, and build a sustainable dialogue between youth and decision makers.

Samara Canada
Samara Canada is dedicated to reconnecting citizens to politics. Established as a charity in 2009, we have become Canada's most trusted, non-partisan champion of increased civic engagement and a more positive public life. Samara Canada's research and educational programming shines new light on Canada's democratic system and encourages greater political participation across the country to build better politics, and a better Canada, for everyone. A samara is the winged "helicopter" seed that falls from the maple tree. A symbol of Canada, it is also a reminder that from small seeds, big ideas can grow.
Collaborators