Paddle Sports
Lachine Canal National Historic Site
Do you like canoeing,kayaking or stand-up paddling? From mid-May to mid-October, come and enjoy paddling on the calm waters of the Lachine Canal. It offers a full range of activities for watersport enthusiasts. It's possible to bring your own non-motorized boat or rent a boat from a concessionaire located near the Atwater footbridge.
---
Paddle board
Paddleboarding (SUP) is permitted on the Lachine Canal. Check out our "Paddleboarding Safety" page before you go, and make sure you have the right equipment to have fun safely. Paddleboarding is permitted in reach No. 2 (1.7 km), reach No. 3 (2.9 km) and reach No. 4 (7.3 km), for a total distance of 12 km between locks Nos. 2 and 5. Users must use the available boat ramps.
---
Your own non-motorized boat
During the summer season, it's possible to bring your own non-motorized boat to enjoy the water activities on the Lachine Canal. It's important to know that you must have a valid season pass in order to navigate your non-motorized boat. In addition, a lockage permit is required to pass through the locks.
Your boat must be in compliance with Transport Canada's requirements, and be equipped with all the mandatory safety equipment. Refer to the Safe Boating Guide to learn more about boat safety.
Surfing - Sailboarding - Diving
For health and safety reasons, "primary contact" activities, such as surfing, sailboarding, and underwater diving, are prohibited.
Launching your boat
To launch your canoe, kayak or paddleboard, you can use the public docks along the canal, including the docks upstream and downstream from the locks. Parking spaces are available at the Notre-Dame and Saint-Pierre wayside stops.
---
Seasonal boat sticker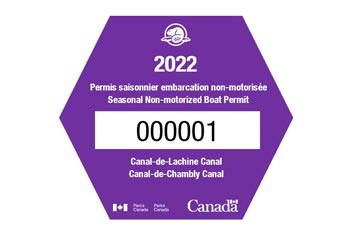 To navigate on the Lachine canal, you must obtain a seasonal sticker. The stickers are available at locks Nos 1, 3, 4 and 5, during hours of operation, at a cost of $25 (excluding lockage costs). Cash only, exact change. Ask a lock operator to get yours!
Note: one sticker per user, regardless of the number of non-motorized boats owned (canoe, kayak, SUP). The sticker is valid in the Lachine and Chambly canals for the entire season.
Seasonal lockage permit
It's possible to obtain your seasonal lockage permit for canoes or kayaks online. Locking not allowed for paddle boards. Portage only from one reach to another
For more information
---
Boats rentals services
Boat rental offered by H2O Adventures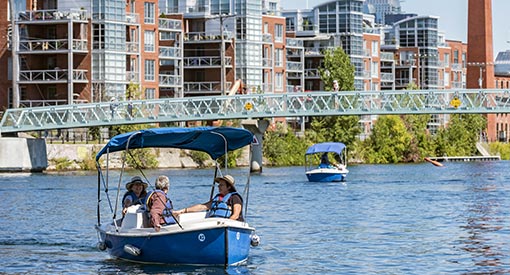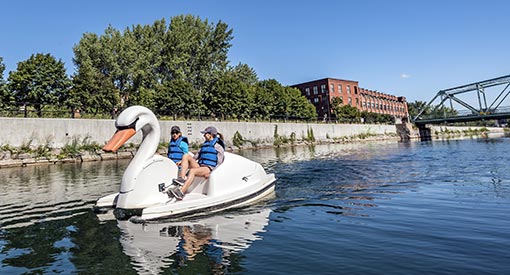 You want to enjoy the peaceful waters of the Lachine Canal but you don't have a boat? You can rent kayaks, canoes, pedal boats and even small electric boats at Aventures H2O. Located on the south shore of the Atwater Footpath, this concession offers boat rentals, tours and lessons.
To reserve crafts, hours and more information, go to Adventures H2O Website.
The pleasures of paddling at Lachine Canal