Activities and experiences
Fortress of Louisbourg National Historic Site
Travel back in time as you roam the streets of the reconstructed 18th-century Fortress of Louisbourg. Learn first-hand from authentically-clad "residents" what it was like during the 18th century. Visit with a Mi'kmaw interpreter and learn about the culture and heritage of the people who have interacted with the lands since time immemorial. Take part in historical gardening, cooking over an open fire, rum tasting, or firing a cannon.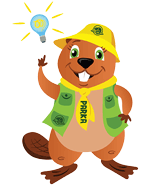 Visiting with Young Children? Explore with Club Parka!
With the Club Parka booklet kids can explore, learn and have fun! The booklets are available on site. With the Photo Missions App, kids are invited to help Parka and Chirp find and photograph specific items found at our place! Download the app for free before visiting. Once one or both activities are completed, they will receive a reward!
Learn more about Parka and download other activities!
Download the free Photo Missions App