Find your red chair moment… at the Halifax Citadel!
Halifax Citadel National Historic Site
We saved you a seat!
Parks Canada has over 200 red Adirondack chairs in peaceful and scenic locations throughout many of the country's most unique and treasured places, including the set found here at the Halifax Citadel.
At the heart of a bustling port city, this national landmark weaves together history and culture to tell an impressive story.

As you make your way up the mighty hill to the fort, take a break in the red chair and enjoy the unparalleled view of the harbour. From up here, it's not hard to imagine why this fort became a key part in a much broader naval defence complex.

As the echoes of rifle-fire and bagpipes travel down from the Citadel, hear what it was like for the Haligonians who shared their city with hundreds of soldiers over 150 years ago.

So sit back, relax and take a moment to connect with this imposing bastion that has stood guard over Halifax for hundreds of years. No need to worry about losing track of time – you're right next to the Old Town Clock, which has been making sure Halifax stays on time for well over 200 years!
How to find the red chairs at the Halifax Citadel
The red chairs are for you to discover. While some chairs are easy to find, others require more of an adventure.
Find them in the following locations:
Table example with hover rows
Location
Entrance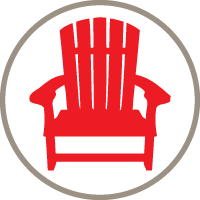 Tag us in your red chair photos
Take a photo and share it with #ShareTheChair
Parks Canada's red chairs: where it all started
In 2011, our friends at Gros Morne National Park came up with the idea to place sets of Adirondack chairs in lesser-known, stunning locations around the park, inviting visitors to enjoy and share on social media. Today, the iconic red chairs can be found in over 100 locations administered by Parks Canada.
Where will your next red chair moment be?
Lightbulb Did you know?
The Parks Canada red chairs are made from 100% recycled plastic saved from Canadian landfills.