Kids' Corner
Alexander Graham Bell National Historic Site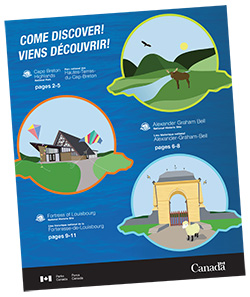 Looking for even more activities?
Download our new activity booklet, featuring activities from all over Cape Breton Island and Canso!
Activity booklet [PDF - 6.1 MB]
Are you looking for some fun activities you can try at home while you learn about Alexander Graham Bell National Historic Site? Try some of these!
When you visit Alexander Graham Bell National Historic Site, make sure you check out the Come Fly a Kite and Experiment programs, made especially for kids. There are lots of things for our younger visitors to enjoy, from our Xplorers Program to Club Parka and so much more!
---
Before you get started, get an adult to help you prepare all the materials that you will need for your activity or craft. Always practice safety first when using scissors, glue, paint or sharp objects!
Make an old fashioned telephone
What you will need:
2 paper cups or tins cans
A long piece of string (fishing line will also work)
Sharp pencil or thin knitting needle
Scissors
Instructions:
Cut a long piece of string – at least 4 metres (12 feet)
Using the pencil or knitting needle poke a hole in the centre of the bottom of each cup. Be careful not to make the hole too big. If you are using a tin can you may need a hole-punch or some extra help putting a hole in the can
Pull each end of the string through the hole of the paper cup. Tie a large knot in the end of the string and gently pull the string back until the knot is against the hole in the bottom of the cup.
Ask a friend or family member to take one of the cups and move away from you until the string is tight. The string should not touch any other object.
Take turns speaking and listening into the cup. Can you hear what the other person is saying?
---
All of the words below are connected to Alexander Graham Bell. Unscramble them to find out what they are!
Unscramble these words

C O N S A L D T
E L N T O P E E H
I R N A A L E P
P I E M E E N X T R
N S D O U
Y D I H O O L R F
A B C D E K D
I T E K
Answers

Scotland
telephone
airplane
experiment
sound
hydrofoil
Baddeck
kite
---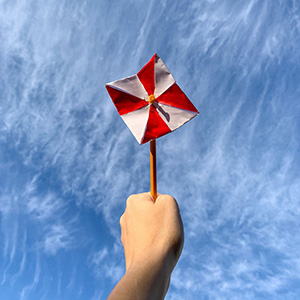 What you will need
12 cm (5 inch) square piece of paper
Pin
Pencil with an eraser
Scissors
Ruler
Instructions:
Draw an X on the paper, from corner to corner (with the ruler) to find the center.
Cut in at each corner, but not all the way.
Fold up every other corner and glue to the center.
Pin the center of the propeller to the side of the eraser of the pencil.
Hold your propeller up and run!
---
Want to see what activities our other places have to offer?
Check out these links to the Kids' Corner at some of our places!