oTENTik
Fort Rodd Hill and Fisgard Lighthouse National Historic Sites
What is an oTENTik? | Reservation | Equipment | Food amenities | Activities | Rules and regulations | Campground hosting
oTENTik camping experiences in Vancouver and Victoria, BC
What is oTENTik?
Experience life within the fort's walls as you fall asleep to nature's soothing sounds.
Be taken back 50 years, to when soldiers' families camped out at Fort Rodd Hill during the summer.
The oTENTiks, exclusive to Parks Canada, offer a unique blend of homey comfort and outdoor adventure. They are the perfect mix of a tent and an A-frame cabin, with raised floors, wooden furniture, and bunkbeds. There are five oTENTiks available. oTENTik #1 was designed to provide access for individuals with reduced mobility or to allow for a baby stroller and playpen.
Take advantage of the exclusive right to stay overnight in Canada's best-preserved west coast artillery fort!
---
Reservations
Our oTENTik season runs from May 12 to October 7, 2023. Reservations for the 2023 season can be made starting at 8 a.m. PDT on March 13, 2023.
Call 1-877-737-3783 or visit www.reservation.pc.gc.ca to reserve.
Five oTENTik tents are available for accommodation. Each tent can accommodate up to six people (including one adapted for individuals with mobility concerns).
Check-in time: between 3 p.m. and 5 p.m. at the main entrance kiosk
Check-out time: 11 a.m.
Be sure to check our special event schedule to see if your stay coincides with one of our exciting special events this season!
Fees
All reservation and accommodation fees are due at the time your reservation is created.
Accommodation Fee: View fees list here
Reservation Fee: View fees list here
Historic Site Entry Fee: You will be required to have a valid entry pass to enter the sites. You can choose either daily entry passes or annual passes. There are several pricing models available to ensure you get the best value for your visit(s). Parks Canada Discovery Passes are valid.
Methods of payment: Accommodation and reservation fees must be paid by credit card (Visa, MasterCard or American Express) at the time of the reservation. Entry fees may be paid by cash, credit card or institutional cheque.
---
oTENTik Equipment and supplies

An oTENTik makes for an easy overnight getaway with a baby.
While the Royal Canadian Navy soldiers would have been required to set up camp they arrived, we've done the work for you, no fuss no muss! Here is what is included with each oTENTik rental and what to bring.
Note: Campfires are not allowed at Fort Rodd Hill and Fisgard Lighthouse NHS. Propane fire pits are available for oTENTik guests.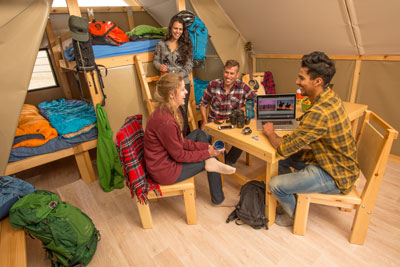 Inside each tent:
Sleeping area for up to six people
A wooden table and four chairs
Electricity and table lamp
Cooking and serving equipment, dishes and utensils
Broom and dustpan
Fire extinguisher
Deck of cards and board games
---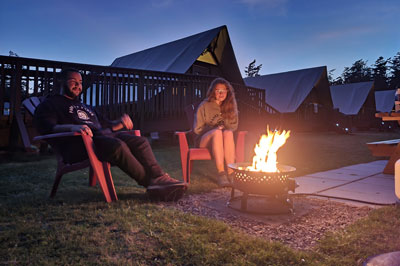 Outside the tent:
Picnic table and two lounge chairs
A propane fire pit (propane included)
Onsite washrooms with flush toilets and hot and cold water taps
Individual tabletop BBQs, camp stoves and accessories (propane included)
Bear-proof food storage lockers
---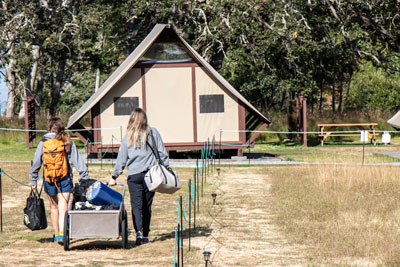 Nearby:
Free parking space for up to two vehicles (parking located outside the fort walls,100 m away)
Overnight camp hosts who are able to assist with questions and/or emergencies
Shower facilities are within a five-minute drive
A medical clinic, restaurants and several grocery stores within a five-minute drive
---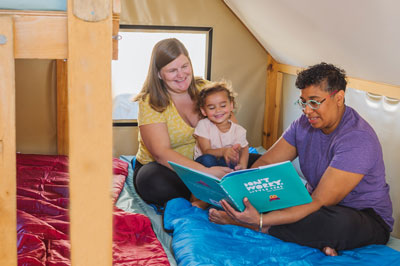 What to bring (this list is not exhaustive):
Sleeping bags, blankets and pillows
Clothing
Food and drinks (potable water available)
Water container
Slippers or indoor shoes
Flashlights
Camping chairs
Insect repellent
First aid kit
Cards, games, books, ball, Frisbee, etc.
Camera
---
oTENTik #1 - Wheelchair Accessible (welcomes individuals with and without mobility restrictions)
One fold-up and rollaway cot in lieu of a single bed, allows for more flexibility based on individual accessibility needs. This arrangement also allows for bed lifts to be used. Three single mattresses and one double mattress (at the top) on a wooden bunkbed-style platform can accommodate up to five additional people.
Mattresses are firm; visitors may wish to bring additional padded sleeping mats if they feel they need them.
There is 15A electrical power.
The door is 91 cm wide.
The door has a lip of under 2 cm at the entry point.
The front of the oTENTik and deck railing have been expanded to approximately 2.5 m by 3 m.
8% slope built-to-code ramp with two handrails and wire mesh on the deck for traction
Wheelchair-accessible picnic table
For guests staying overnight in the summer, a wheelchair-accessible portable toilet is situated outside of the wheelchair-accessible oTENTik #1. The toilet seat is 70 cm high.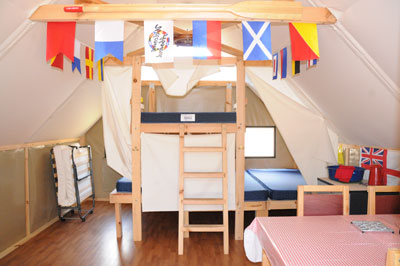 ---
Food amenities
Note: To prevent wildlife from entering your sleeping quarters, cooking and eating is not permitted inside the tent.
BBQ your own dinner! Individual tabletop BBQs and camp stoves (including propane), accessories, and roasting sticks are available.
Purchase your food from local cafés or take-out restaurants
Dine out at nearby restaurants.
Alcohol
Responsible use of alcohol is permitted between 5 p.m. and 10 p.m. within your camping area.
---
Activities
Fort Rodd Hill and Fisgard Lighthouse National Historic Sites offer many activities to keep you busy and having fun!
Within the fort:
Camp Host:
Your camp host will introduce themselves the first night of your stay and provide a brief orientation to the site and the surrounding area. They will then be available throughout the rest of your stay for questions and in case of emergency.
Wondering about opportunities to become a Camp Host, see the Volunteer opportunities page.
Attractions and places to visit within a few minutes' walk or drive:
Castles and art galleries
Playgrounds and element parks
Nature trails and regional parks
Lakes, lagoons and beaches
Bird sanctuary and tidal pools
Farmers' markets and cafés
---
Rules and regulations
In addition to the national historic site's rules and regulations, Parks Canada oTENTik users must abide by the following:
A minimum of one person per oTENTik must be at least 19 years of age.
For your safety and the safety of the local wildlife, no food preparation, food or drink storage, eating, drinking, or cooking is allowed inside the tent. Please store all food and related items in your vehicle or the food storage locker provided during your stay.
Smoking is not permitted at the national historic sites. This includes the use of cigarettes, cigars, pipes, vaping and e-cigarettes. Smoking is permitted only in the parking lot.
Pets are not permitted within the tents or within the national historic sites.
Quiet time (curfew) is from 10 p.m. to 7 a.m.
Only the use of personal headphones is allowed for listening to music in the fort.
Campfires are not permitted. Please only use the propane fire pit provided.
You must collect your garbage and leave it in the receptacles designed for that purpose.