[ Previous | Table of Contents | Next ]
---
4. DOCKS AND BOATLIFTS
CONTEXT
Docks are the most common form of in-water work. A boatlift is a device used to lift a boat clear of the water.
Docks have a great potential for harmful effects owing to their popularity and location in the most sensitive part of the littoral zone.
The potential impacts include:
Detrimental impacts on, or destruction of submerged cultural resources or fish spawning habitat as a result of dredging and construction activities;
The loss of natural shoreline and aquatic vegetation;
Erosion, siltation and other impacts caused by altering natural water flows;
Blocking of sunlight needed by aquatic plants thus resulting in a loss of fish habitat;
Associated human use on land and water, which can result in further habitat loss and disturbance of natural shore vegetation.
Docks and boatlifts are routinely approved as long as there are no significant adverse environmental or cultural resource impacts, and public safety and navigation are not compromised.
POLICIES
Generally, cantilevered, floating, and docks supported on legs, posts or pipes are recommended. Crib style docks with open spans may also be permitted if certain circumstances warrant such as areas of heavy wave action and large vessels. Open pile-supported docks are also allowed. Docks consisting of solid in-water structures will not be approved.
Where crib and span arrangements are used (i.e. in crib & span designs), they must be open-faced.
Rocks used to fill cribs must be clean and free of soil, taken or imported from land but not from a lake or river bottom or shoreline.
Structures to secure docks to the shore shall be installed above the upper controlled navigation (water) level.
Size limits for new or replacement docks, including any attached fingers are as follows:

It will fit within an 8 m x 10 m (26 ft. x 32 ft.) rectangular area or envelope adjacent to the shore;
The maximum width of a dock is 2.4 m (8 ft.);
A maximum of two fingers no wider than 2 m (6 ft.) may be installed from the main dock section;
The combined maximum surface area of a dock and fingers is 45 m² (452 ft²);
Access ramps, if used, are not to exceed 2 m (6 ft.) in width;
The first 3 m (10 ft.) of dock adjacent to the shore must be as an open span to accommodate water circulation and exchange and fish movement;
The maximum total footprint of a supporting structure for a dock is 15 m² (160 ft²);
A minimum of 50% of the total length of a dock, including any attached fingers, must be one or more open spans.

Boatlifts must be located within or adjacent to the specified dock.
Boatlifts must be an open design; enclosed walls are not permitted.
Gazebos on docks are not permitted.
In the case of very shallow water an extension may be granted up to a depth of 1 m (3 ft.) to allow for sufficient depth for boat mooring.
Docks must not interfere with water flow and currents.
Flotation for floating docks shall be enclosed and contained, where necessary, to prevent the escape or breakup of the flotation material into the water.
The installation of floating docks and other structures will be permitted during the mid-March to June 30th period provided they can be floated in and secured to their anchors without causing harmful disturbance to fish spawning activity or habitat. No other work or heavy equipment is allowed on the bed during this period.
Only one dock per lot is allowed unless it is a water access only property.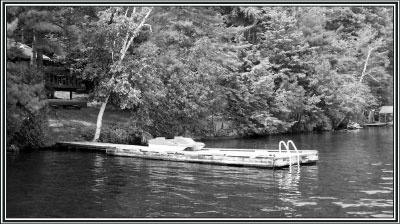 © Parks Canada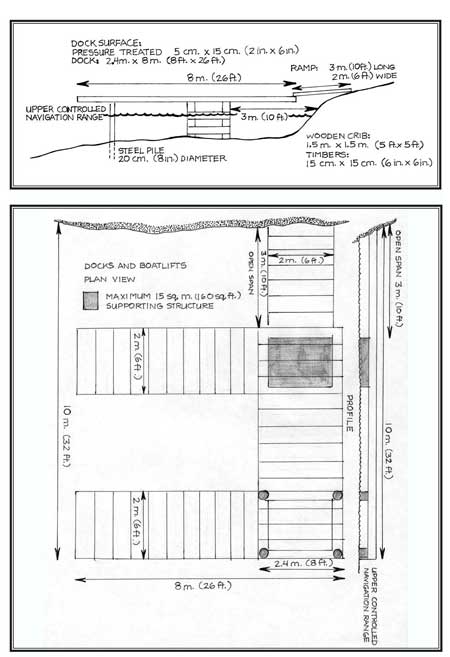 © Parks Canada
---
[ Previous | Table of Contents | Next ]