8,4 km – 8,6 km
Up to Hogs Back, the Rideau Canal is an artificial waterway of excavated channels and a drowned swamp, Dows Lake. Hogs Back Lockstation marks the transition from excavated channel to the Rideau River. Access to the river was made possible by the damming of Hogs Back Falls. This resulted in the raising of the level of the river to create a slackwater section that boats entered after passing through the two locks. An earth embankment dam separates the locks and excavated channel from the natural river course and maintains the water level for navigation.
Cultural Resources
Two locks – Manually operated locks in flight, with a combined lift of 4,4 m, 1830. CRM1.
Earth embankment dam – 98 m long, 1830. CRM1.
Lockstation office – A one-and-a-half-storey frame building, 1930. FHB.
Storage shed – A small frame structure, 1930. FHB.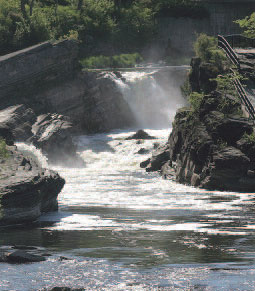 © Parks Canada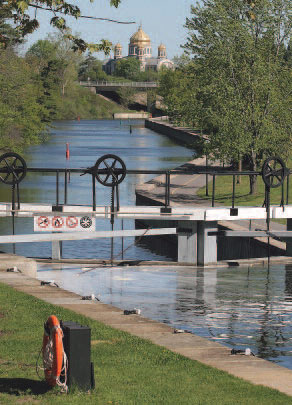 © Parks Canada
Hogs Back Lockstation to Black Rapids Lockstation
8,6 km – 15,0 km
The construction of the dam at Hogs Back created a 6,4-km slackwater section to Black Rapids Lockstation. Immediately south of the dam, the inundation created a broad expanse of water called Mooneys Bay.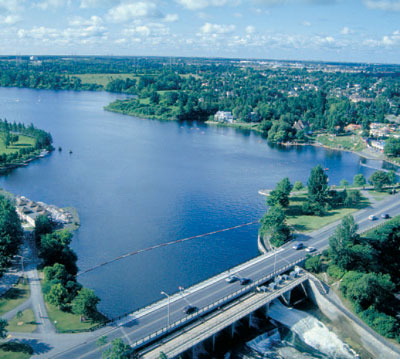 © Parks Canada