Indigenous Stewardship Circle: Indigenous voices in Parks Canada's future direction
August 15, 2022 – Parks Canada Agency is currently looking to enable Indigenous stewardship across Parks Canada administered places with an approach that: strengthens re-connections to the land, water and ice; empowers Indigenous voices; supports Indigenous leadership; and, respects Indigenous knowledge and knowledge systems. This work is intended to evolve approaches to conservation, commemoration and presentation to be more in line with the United Nations Declaration on the Rights of Indigenous Peoples and will contribute to the implementation of the UN Declaration on the Rights of Indigenous Peoples Act.
Parks Canada is seeking up to 12 individuals who identify as Métis, Inuit or First Nations and have significant knowledge or experience in the area of Indigenous stewardship, such as with practices on the land, Indigenous languages, Indigenous knowledge, and conservation.
The Circle will serve as an advisory structure, providing ongoing advice, guidance and direction to the Agency's work on Indigenous stewardship. In addition, the Circle will be a key element in guiding the Agency's engagement with Indigenous partners.
By working together, we will learn to respect our differences, strengthen our commons goals and values, and celebrate our shared success. This, in itself, is the definition of true partnerships.
Proposed Indigenous Stewardship Framework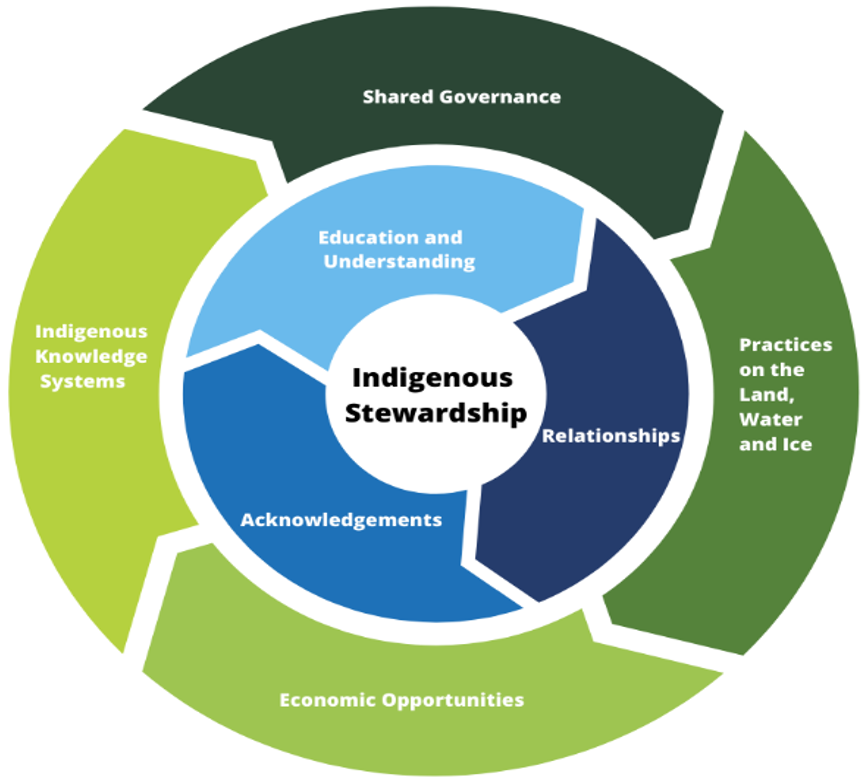 Image description

Proposed core elements (shown in green): these four interconnected elements are understood to be central components of Indigenous stewardship. They include Indigenous knowledge and Indigenous knowledge systems; shared governance; practices on the land, water and ice; and economic opportunities.

Proposed enabling elements (shown in blue): these three elements are considered to be foundations for Indigenous stewardship: broader efforts to build and maintain strong relationships between Indigenous peoples and Parks Canada; the need to acknowledge or apologize in those places where past and/or present actions by Parks Canada have impacted Indigenous Peoples, and education and understanding.